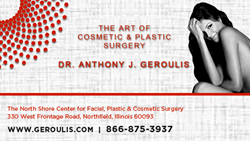 In the same way that patients worry about the excess skin on their body, extreme weight loss causes many changes to their facial structure, as well
Chicago, IL (PRWEB) April 30, 2015
Board-certified cosmetic surgeon, Dr. Anthony J. Geroulis comments on newly raised, surgical residents concerns for surgery complications during University of Chicago Medicine surgical cases presentation in March 2015. The concerns addressed facial cosmetic procedures for patients who have recently undergone massive weight loss.
Many patients who undergo massive weight loss - more than 100 pounds - undergo body contouring procedures to correct and remove excess skin on the body. Facial cosmetic surgery is often a necessity to correct excess skin on the neck, jowls and cheek region, as well. Board-certified cosmetic surgeon Dr. Anthony J. Geroulis has encountered many patients over the years at his Chicago-based practice, North Shore Center for Facial Plastic & Cosmetic Surgery, who sought solutions to changes in their facial structure after massive weight loss.
"In the same way that patients worry about the excess skin on their body, extreme weight loss causes many changes to their facial structure, as well. While similar techniques are utilized when performing a regular facelift, there is often much more extensive work to be done in terms of fat augmentation, removal of fat pads and loose skin manipulation in order to achieve complete facial rejuvenation" explains Dr. Geroulis.
Many patients who visit Dr. Geroulis post-weight loss are encouraged to undergo a few procedures at one time, which cuts down on recovery time and operating room fees. "While a facelift is the ideal procedure to correct changes in the mid and lower facial region, a corset neck lift, also referred to as a corsetplasty, may be recommended to correct increased muscle laxity and skin inelasticity in the neck. Gravity and aging affect everyone's facial structure, but someone who has recently lost a significant amount weight will experience these changes to a much higher degree."
For more information about North Shore Center for Facial Plastic & Cosmetic Surgery, please call (866) 875-3937 or visit http://www.geroulis.com.
About Dr. Anthony J. Geroulis:
Bringing over 33 years of surgical and artistic experience to the field of facial plastic & cosmetic surgery, Anthony J. Geroulis, MD, FICS, has repeatedly been named a "Top Doctor" by U.S. News & World Report. Board certified in cosmetic surgery, author and active sculptor, Dr. Anthony Geroulis is a clinical professor of surgery at University of Chicago Medicine. His medical office is headquartered in Northfield, with offices in Chicago, at University of Chicago Medicine and at St. Alexius Medical Center in Hoffman Estates.