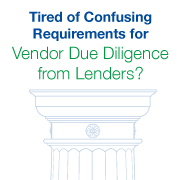 One of our goals has been to help educate mortgage lenders and the title industry about the Best Practices Framework. We believe the issuance of this guidance from the AICPA will assist us in further accomplishing that goal
Knoxville, TN (PRWEB) May 01, 2015
National consulting and certified public accounting firm PYA, Elite Provider of the American Land Title Association (ALTA) Best Practices Framework, announced the continued commitment to the lending and title industry. The American Institute of Certified Public Accountants (AICPA) published non-authoritative Technical Questions and Answers (Q&A) guidance, April 23, 2015, to address questions that accounting practitioners submitted about ALTA's Best Practices Framework. This newly issued guidance affirms PYA's structure and professional relationship with title and settlement agents seeking ALTA Certification.
ALTA created the Best Practices Framework to assist mortgage lenders in developing vendor risk management programs specific to title and settlement agencies. AICPA's Technical Q&A answers questions about how accounting practitioners should provide services to title and settlement companies seeking objective, third-party assessments of their agencies' compliance with Best Practices. AICPA's response outlines four types of engagements that can be performed by accounting practitioners: a review, an examination, agreed-upon procedures, or a consulting engagement. PYA's services to title and settlement agents encompass all four of these engagement types.
PYA's Managing Principal of Audit & Assurance Services Mike Shamblin said, "As the first provider of third-party certification services through ALTA's Elite Provider Program, we are pleased to see the AICPA provide further clarification for our title and settlement company clients. One of our goals has been to help educate mortgage lenders and the title industry about the Best Practices Framework. We believe the issuance of this guidance from the AICPA will assist us in further accomplishing that goal."
PYA became the first ALTA-designated Elite Provider of Best Practices services for the title and settlement industry. PYA's experienced title industry and accounting professionals offer policy and procedure development, pre-assessment services, and independent certification assessments. PYA also serves the banking industry with regulatory compliance and internal audit services. PYA's experience with mortgage lenders and the title and settlement industry provides a unique perspective on how both industries approach vendor risk management.
PYA has authored a white paper on the topic of ALTA Best Practices for title professionals. "Tired of Confusing Requirements for Vendor Due Diligence from Lenders? ALTA Has a Solution for Your Organization" explores ALTA Best Practices Certification from the title industry's perspective, detailing the ascension of ALTA's Best Practices Framework and how it has transformed the regulatory landscape for title insurance companies.
About PYA
PYA is a Certified Public Accounting and Consulting Firm that assists title and settlement companies with the implementation of ALTA's Best Practices Framework and certification. For over three decades, PYA has provided exceptional professional services and delivered comprehensive services in compliance, assurance, tax, and advisory to clients. For more information, visit http://www.pyapc.com/bestpractices.