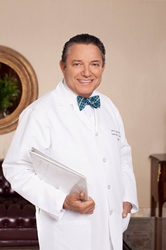 The issue shouldn't be whether or not the nose needs to be broken but, rather, which surgeon is performing the surgery
Chicago, IL (PRWEB) May 01, 2015
Board-certified cosmetic surgeon Dr. Anthony Geroulis performs dozens of rhinoplasty procedures a year. As a clinical professor of surgery at University of Chicago Medicine, Dr. Geroulis is a surgeon who teaches future surgeons about this complex facial procedure.
"Rhinoplasty surgery corrects the form of the nose, while a septoplasty corrects function," explains Dr. Geroulis. "Whether or not bones need to be broken depends on the severity of the condition, particularly to what degree the septum is deviated or the nasal shape is deformed." The nasal cavity is divided down the midline and the degree to which this is off-center, which is called a deviated septum, determines how severe a patient's symptoms will be. A deviated septum can cause a variety of problems from sinus infection to nosebleeds and severe headaches. A septoplasty can be combined with a rhinoplasty if the patient wants to correct the shape and size of the nose.
"The issue shouldn't be whether or not the nose needs to be broken but, rather, which surgeon is performing the surgery. A patient should select a surgeon with years of experience, good credentials, excellent patient reviews and, most importantly, someone they feel comfortable around. Once the right surgeon is selected, they will create the most educated and informed surgical plan possible - one that is right for that individual," concludes Dr. Geroulis.
For more information about North Shore Center for Facial Plastic & Cosmetic Surgery, please call (866) 875-3937 or visit http://www.geroulis.com.
About Dr. Anthony J. Geroulis:
Bringing over 33 years of surgical and artistic experience to the field of facial plastic & cosmetic surgery, Anthony J. Geroulis, MD, FICS, has repeatedly been named a "Top Doctor" by U.S. News & World Report. Board certified in cosmetic surgery, author and active sculptor, Dr. Anthony Geroulis is a clinical professor of surgery at University of Chicago Medicine. His medical office is headquartered in Northfield, with offices in Chicago, at University of Chicago Medicine and at St. Alexius Medical Center in Hoffman Estates.