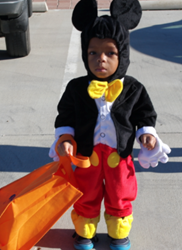 The challenges faced by David and Yolanda are unthinkable to most of us, and we find her story of perseverance absolutely inspiring…
Grand Prairie, TX (PRWEB) May 01, 2015
With a new charity campaign in Texas, Westchester Insurance looks to raise funds to benefit Bryan's House and their mission to provide children with different types of medical, respite, specialized care and social services. David is a little boy with a rare genetic disorder. His mother lacked the financial means needed to cover the medical treatments necessary. She was also left on the street alone with nowhere to turn for help. Bryan's House opened their doors to hundreds of families like David and Yolanda, providing medical care and a network of support to help these families get back on their feet. Donations can now be made through the campaign's page at: http://www.westchesterinsuranceteam.com/A-Place-Like-Home-For-Children-With-Disabilities-_14_community_cause.
Through its vast network of loyal customers, staff, business partners, friends and family, Westchester Insurance will divulge Bryan's House mission, giving others the opportunity to contribute, and become active agents of change. The initiative is another display of the agency's commitment to striving to keep those around them always in good hands.
The campaign will be heavily promoted over the course of the next 30-60 days, through the agency's social media channels, email and text message communications, as well as through their monthly magazine, delivered to thousands of households in Texas, where the agency currently operates. Our Hometown magazine reserves a full page to feature Bryan's House and other details. The electronic Flipbook version of the current issue can be accessed here: http://www.westchesterinsuranceteam.com/Our-Hometown-Magazine_39.
Westchester Insurance asks the support of all of those who are able to spare $5 or more. Any and all the help is valuable and greatly appreciated by the family. Donors are encouraged to visit http://www.westchesterinsuranceteam.com/A-Place-Like-Home-For-Children-With-Disabilities-_14_community_cause and also share the page with friends and family. Those contributing will be acknowledged in the agency's monthly magazine.
The Community Program held by Westchester Insurance will continue to feature a new cause every 30-60 days, in an effort to rebuild, restore and offer relief to the community. In many cases, the agency will work with local nonprofit organizations, to elect families and individuals in need to receive such support, but an open channel has also been established at http://www.westchesterinsuranceteam.com/Add-Community-Cause_53, so other members of the community can bring to the agency's attention a specific need, known to them. More information regarding past and current campaigns supported by Westchester Insurance can be found at: http://www.westchesterinsuranceteam.com
About Westchester Insurance
Westchester Insurance's mission as a team is to provide the best insurance and financial services in the industry. Their number one job is to protect the current assets clients have worked so hard for, and to help them invest so they can retire with the right amount of money. Westchester's success is measured by customer satisfaction and the value they bring. To learn more about Westchester Insurance, call 817-682-2416.