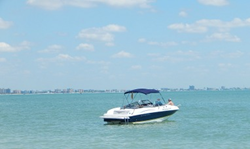 Since the northern states have experienced back to back harsh winters, we're now seeing a larger percentage of migrating Baby Boomers opt to live in a warmer climate year-round, as opposed to a mild four season climate."
Libertyville, IL (PRWEB) May 01, 2015
Marian Schaffer, Principal and Founder of Southeast Discovery, a real estate consulting firm specializing in guiding Baby Boomers with their real estate needs in the niche markets of retirement relocation and second homes in the Southeast region, recently cited 7 coastal locations in the southeastern U.S. she predicts will be in high demand among relocating Baby Boomers in 2015. According to Schaffer, the severe winter in the Midwest in 2013-2014 and the equally challenging winter those in the Northeast had to contend with in 2014-2015 is a big part of what's contributing to this trend.
"Every year, we see Baby Boomers who have their eyes set on the Southeast region for retirement relocation choose between the mountain region of the Western Carolinas, Northern Georgia and East Tennessee; the inland areas that offer big city life such as Raleigh and Charlotte, NC, Atlanta, GA and Columbia, SC; and the coastal areas," said Schaffer. "But since the northern states have experienced back to back harsh winters, we're now seeing a larger percentage of migrating Baby Boomers opt to live in a warmer climate year-round, as opposed to a mild four season climate."
Schaffer predicts the following coastal areas from southern Virginia to the Carolinas, and from the Georgia coast down to Florida will be the areas in highest demand for migrating Baby Boomers in 2015:
Cape Charles, VA. The historic town of Cape Charles is on Virginia's Eastern Shore, and is both a local residential community and an in-demand destination for vacationers. The town features a public beach right on the Bay, and nearby attractions include The Eastern Shore National Wildlife Refuge near the southern tip of the peninsula. The master-planned community of Bay Creek is located just outside of Cape Charles at the southwestern tip of Virginia's Eastern Shore offering beautiful homes, dining, and a world-class golf resort.
New Bern, NC. Located inland from the Outer Banks in an area known as the "Inner Banks," the picturesque coastal town of New Bern was the state's original capitol and is the birthplace of Pepsi–Cola. Trent and Neuse River views can be enjoyed from nearly all directions in New Bern, which features a thriving downtown, a modern convention center, and an abundance of historical attractions and period homes. The master-planned community of Carolina Colours is located 10 minutes from New Bern's historic downtown and nearby golf, shopping, parks and lakes.
Wilmington, NC. This historic port city located on the banks of the Cape Fear River was recently named "Best American Riverfront" by readers of USA Today. Wilmington draws large numbers of vacationers and relocating retirees each year with its many charms, including temperate year-round weather, its famed boardwalk with waterfront dining and shopping, and beautiful beaches, including nearby Wrightsville Beach 15 minutes away, and the Brunswick Island beaches of Ocean Isle Beach, Holden Beach and Sunset Beach about 45 minutes south.
Wilmington is just north of Brunswick County, which stretches for 40 miles along the southeastern tip of the state and is one of the fastest growing areas of North Carolina. For many, the manageable one day drive back to the Northeast from this locale and the area's low cost of living are deciding factors for those relocating to this coastal area, according to Schaffer. Many of these relocating retirees choose to buy property in the master-planned community of Brunswick Forest, which is situated on 4,500 acres of woodlands, creeks, forests and natural areas just 10 minutes from historic downtown Wilmington.
Beaufort, SC. Beaufort is an idyllic small town situated north of Savannah, Georgia and south of Charleston along the Port Royal Sound in the Sea Islands region of the state. Beaufort has served as the backdrop for films such as Forrest Gump, The Great Santini, The Big Chill, GI Jane and more, and features a lively arts and culture scene, an historic downtown with period Civil War homes, and plentiful fishing, golf, lowcountry cuisine and access to nearby beaches. The area's scenic beauty and temperate year-round climate make it a desirable draw for relocating and retiring Baby Boomers coming from the Northeast. Many who relocate here choose to buy in the community of Spring Island, just off the main thoroughfare to Beaufort, and the nation's first conservation-based development.
Bluffton, SC. Located just across the bridge from Hilton Head Island, Bluffton is a charming lowcountry town featuring antebellum homes, historic churches and unique shopping and dining along quaint tree-lined streets. Bluffton has grown from 1 square mile to over 57 square miles over the last decade, thanks in large part to the quality master-planned development that has taken place in this coastal SC town. For Baby Boomer retirees who want to avoid the tourist congestion, higher insurance costs, and older real estate options on Hilton Head, the coastal town of Bluffton, SC is an ideal choice. Two attractive master-planned communities in this area are Hampton Lake and Palmetto Bluff.
Vero Beach, FL. Located along Florida's Atlantic Coast, Vero Beach is a haven for golf, water sports and fishing. Part of the region known as the Treasure Coast, Vero Beach offers great beaches, a laidback lifestyle, an abundance of museums, art galleries and dining options, and beautiful real estate in a wide variety of price ranges.
Naples, FL. Naples, located on the Gulf of Mexico in southwest Florida, is known for its calm seas and beautiful sunsets. It also offers world class shopping and dining, abundant recreation opportunities, and numerous championship golf courses. Relocating retirees used to big city life will find the transition to Naples a smooth one, as it offers all the conveniences of a major metro area in a beautiful, laidback coastal setting. Real estate options in Naples include both new and older homes, all of them incredibly well taken care of.
"As more Baby Boomers retire, especially if the winters of the Northern states continue to be rather harsh and prolonged, we believe the trend will continue where a good percentage of these folks will decide to migrate southward, either full or part-time," said Schaffer. "We are seeing a continuing stream of Baby Boomers visiting and buying real estate in the Southeast region where they can be outdoors year round and enjoy a lower cost of living overall."
About Southeast Discovery
Since 2004, Southeast Discovery has been a trusted resource for candid information and insight on communities, developments, and general real estate in the Southeast. Through its highly-ranked web portal, newsletter and blog and its one-on-one work with clients, Southeast Discovery helps buyers actively looking for a retirement or second home in the Southeast navigate the process of identifying the right area and community for their needs. To learn more, visit http://www.southeastdiscovery.com/.