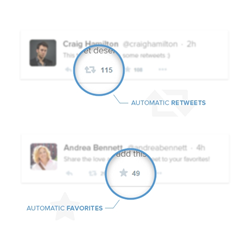 Auto Engagements allow our clients to stand out, be heard and make a larger impact to both their own Twitter followers and other relevant users on Twitter.
West Palm Beach, FL (PRWEB) April 30, 2015
Social Media Marketing company and industry leader, Devumi announces today its official launch of their automatic Twitter retweets and favorites service, Auto Engagements. The subscription service, with a starting price of $19 per month, is primarily targeted toward small businesses and professionals on Twitter seeking to gain more exposure on social networks.
Devumi, with more than 126,000 clients in 127 countries, has a reputation for revolutionizing the Twitter marketing industry. In 2010, their Twitter Followers service allowed users to quickly gain a larger following and social proof, while their Sponsored Mentions services, introduced in 2012, providing clients immediate exposure through targeted influencers. With Auto Engagements, the company aims to both complement and expand the advantages of their service, allowing clients to grow their social proof and gain immediate exposure through their tweets.
The amount of retweets and favorites a business attracts has long been known to impact the impressions, engagement and clicks that tweets receive. The more retweets and favorites, the better chance a tweet will have of reaching and making an impact on followers and interested users. This is due to both the effects of social proof, and Twitter's search algorithm that ranks relevant tweets by their popularity.
Devumi's Auto Engagements provide a simple solution for businesses and professionals to garner more exposure, engagement and overall success on Twitter by attracting additional retweets and favorites to their tweets automatically from active, targeted users.
Devumi's CEO, German Calas, remarks that "Auto Engagements allow our clients to stand out, be heard and make a larger impact to both their own Twitter followers and other relevant users on Twitter. Tweets gain more visibility in search results, carry more value in the form of credibility and social proof, and encourage action from users - from a simple retweet to a direct conversion."
The company offers seven different plans for Auto Engagements, ranging from 100 Daily Engagements for $19 per month, to 10,000 Daily Engagements for $499 per month. The service is offered as either a stand-alone subscription, or as an Add-On to their Twitter Followers service. For more information regarding Devumi's Auto Engagement service, visit their website at http://devumi.com/twitter-engagements/