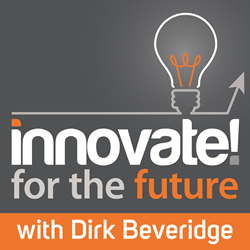 Andrew has evolved Berlin Packaging from being just another distributor caught in a world of sameness to becoming a role model of innovation and leadership for every privately-held independent distributor.
Chicago, IL (PRWEB) May 04, 2015
Andrew Berlin has led Berlin Packaging over the last 27 years developing a juggernaut in the packaging industry while growing the value of the company from $69 million to $1.43 billion.
In this five episode podcast series of Innovate For The Future, Andrew Berlin Chairman and CEO, and Jeremy Lagomarsino, Executive VP of Business Development and Strategy for Berlin Packaging, discuss the company's vision, culture, value proposition, business model, and innovations with the show's host Dirk Beveridge.
"I'm thrilled to bring these intimate discussions I had with Andrew and Jeremy -- 30 minutes at a time -- to our UnleashWD community and the entire wholesale distribution industry," Beveridge said. "I've known Andrew for more than 20 years and have watched him evolve Berlin Packaging from being just another distributor caught in a world of sameness to becoming a role model of innovation and leadership for every privately-held independent distributor."
Andrew Berlin added, "Dirk and I share a passion for transforming the people and companies that surround us. I hope listeners of this podcast series will find ideas and inspiration that help them become greater, faster."
This entire series and all episodes of Innovate For The Future will be available in iTunes and on Beveridge's new website. Episode one in the series is available today. From the website, listeners will be able to download the episode transcript and access links of all the resources discussed in the episode.
The Innovate For The Future Andrew Berlin series will appear as listed here:
Available today: Episode One - How Vision, Fantasy, and Execution Grew Berlin Packaging From $69 Million to $1.43 Billion
May 11: Episode Two - Berlin Packaging Proves That Distribution Can Be Sexy: How To Build A Profitable Business Through A Culture Of Mutual Obligation
May 18: Episode Three - How Berlin Packaging Obliterates The Self Inflicted World Of Sameness Most Distributors Are Trapped In
May 25: Episode Four - How Berlin Packaging's Business Model Has Recently Returned Over $200 Million of EBITDA Back To Their Customers
June 1: Episode Five - How Transformative Leadership Has Made Berlin Packaging A Juggernaut In The Packaging Industry.
About Dirk Beveridge
Beveridge is leading a movement of change and innovation throughout wholesale distribution. Beveridge identified that innovation was bypassing distributors and in 2012 founded UnleashWD, the only innovation summit for distributors. His book INNOVATE! How Successful Distributors Lead Change In Disruptive Times is setting a bold new agenda of innovation for distributors around the world and continues to be a best seller.
As one of the country's most outstanding business speakers, Beveridge is delivering a new voice, a new energy, and a new outlook to audiences on six continents. For more information visit http://www.dirkbeveridge.com.
Beveridge is available for press interviews, corporate speaking, and consulting. To contact him call 847-381-7797 or email info(at)unleashwd(dot)com.
About Andrew Berlin
Andrew Berlin is the Chairman and Chief Executive Officer of Chicago-based Berlin Packaging. He has led the company since 1988 – taking it from a small distributor to a true juggernaut in the packaging industry. The company was recently valued at $1.4 billion. Andrew is also a Partner at the Chicago Cubs and is also the Chairman and Owner of the South Bend Cubs, the minor league affiliate of the Chicago Cubs. You can learn more about him by visiting AndrewBerlin.com.
About Berlin Packaging
Berlin Packaging is North America's only Hybrid Packaging Supplier® of plastic, glass, and metal containers and closures. See PaintTheTarget.com and GreaterFaster.com for more on how the company exists to help people and companies excel. With over 33,000 available SKUs, over 120 packaging consultants, and more than 90 sales and warehouse locations across North America, the company has the right products, expertise, and geographic proximity to help customers increase their net income through packaging products and services. Berlin Packaging supplies billions of containers and closures annually as well as warehousing and logistics services for customers of all sizes in all industries. It is the only company in its sector to be ISO 9001 certified, to have Customs-Trade Partnership Against Terrorism (C-TPAT) certification, and to achieve 99% on-time delivery of its shipments every month for over 10 years. Related services and specialty product divisions include Studio One Eleven custom packaging and graphic design, Berlin Global sourcing solutions, E3 profit-oriented consulting, Berlin Financial financing for equipment and capital improvements, Berlin Quality advocacy, Dangerous Goods transport, Freund Container & Supply convenience, and Qorpak laboratory supplies. The company can be reached at 1.800.2.BERLIN, BerlinPackaging.com, and on LinkedIn and Twitter.
About Innovate For The Future
Innovate For The Future is a new weekly podcast show produced by Dirk Beveridge. The podcast series is designed to provide intimate access to some of the world's most effective leaders, innovators, and disrupters from within distribution and beyond.
The innovative structure of Innovate For The Future features a "series within a series" format. Rather than one-off, stand alone interviews, each guest will be featured in a series of five 30 minute podcast episodes. The Innovative Distributor™ model provides a framework for the five episode in each series.
Innovate For The Future is available today in iTunes and at
http://dirkbeveridge.com/series/innovateforthefuture-fm/