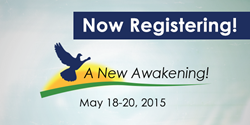 It is my expectation that minds, spirits, souls and ministries will be greatly enriched.
Dayton, OH (PRWEB) April 30, 2015
On May 18, 19 and 20, 2015, United Theological Seminary will host A New Awakening! 2015, an international conference focusing on global church renewal. The conference will take place at the Dayton Marriott Hotel, 1414 S. Patterson Blvd., Dayton, Ohio.
The Seminary has partnered with the Wesley Fellowship Pastors of the Republic of Korea to introduce this new event. More than 60 conference participants and attendees from the Republic of Korea will make the trip to Dayton, Ohio, to join American clergy and laity for the inaugural "A New Awakening!" conference.
With the theme "Spirit Led into God's Future," conference activities will focus on the vitality of the global church in the past, present and future.
Featured speakers include

Dr. Leonard I. Sweet, the E. Stanley Jones Professor of Evangelism at Drew University and a Visiting Distinguished Professor at George Fox University;
Rev. Dr. Dottie Escobedo-Frank, an elder of the Desert Southwest Conference of The United Methodist Church;
Dr. Byoung Sam (Sam) Kim, Senior Pastor of Manna Church in Bundang, South Korea, President of World Human Bridge and Adjunct Professor at Methodist Theological Seminary in Seoul, South Korea;
Rev. Dr. Rinaldo (Rini) Hernandez, a District Superintendent in the Florida Conference of The United Methodist Church and a member of United's Board of Trustees;
Rev. Dr. J. Kabamba Kiboko, Senior Pastor for Forest Chapel United Methodist Church, Forest Park, Ohio.
Other key church leaders and academics from both the United States and Korea will join the conversation.
United and the Wesley Fellowship Pastors hope this conference will become an annual event. A New Awakening! 2016 will be hosted by the Wesley Fellowship Pastors in South Korea, with United hosting the event in the United States every other year.
"We're excited to be working with our colleagues in the Wesley Fellowship Pastors on this new venture," said Wendy Deichmann, President of United Theological Seminary. "It is my expectation that minds, spirits, souls and ministries will be greatly enriched through the outstanding instruction, inspiring worship and meaningful fellowship that will take place at A New Awakening!"
This event is an opportunity for Christians of all denominations to come together to discover how they can make a positive difference in the future of the global church. For more information, including registration details, a full list of conference speakers and a schedule of conference events, please visit http://www.anew-awakening.org.
United Theological Seminary is a graduate professional school of The United Methodist Church offering masters and doctoral theological degrees and continuing education with programs offered on campus and online. United's goal is to educate dynamic, Spirit-led leaders who will renew the church for the mission of Jesus Christ in the world. Visit http://www.united.edu for more information.