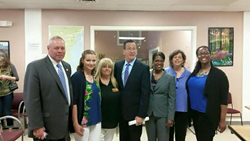 Everyone deserves a second chance when it comes to recovery.
Hartford, CT (PRWEB) May 01, 2015
On Wednesday, April 29, 2015 Connecticut Governor Dannel Malloy visited the Windham Recovery Community Center, a program of the Connecticut Community for Addiction Recovery. After receiving a tour of the Windham Recovery Center by Center Manager Marika Stewart and Volunteer Manager Kathy Wyatt, the Governor spoke about his Second Chance Society Initiative and his commitment to securing funding for additional treatment, housing, employment and recovery support for those with low level criminal charges who can benefit from recovery assistance instead of incarceration.
The Department of Correction (DOC) Commissioner Scott Semple and the Department of Mental Health and Addiction Services (DMHAS) Commissioner Miriam Delphin-Rittmon were also in attendance. Mike Lawlor from The Office of Policy and Management (OPM) spoke of the vital need for people in recovery voicing their concerns to their legislators. Lawlor assured recoverees their phone calls are important and they will be heard. CCAR Volunteer speaker Katelynn Collins shared her story of how her life has been redeemed through her recovery and with the help of CCAR.
The staff and volunteers at CCAR were delighted and greatly honored to be asked to host this event and to showcase the work we do in helping people recover and serve as positive community members.
Since 1998 the Connecticut Community for Addiction Recovery (CCAR) has organized the recovery community (people in recovery, family members, friends and allies) to put a face on recovery and to provide recovery support services to help sustain recovery. By promoting recovery from alcohol and other drug addiction through advocacy, education and service, CCAR strives to end discrimination surrounding addiction and recovery, open new doors and remove barriers to recovery, achieve and sustain recovery regardless of the pathway, all the while ensuring that all people in recovery, and people seeking recovery, are treated with dignity and respect. CCAR envisions a world where the power, hope and healing of recovery from alcohol and other drug addiction is thoroughly understood and embraced.
For more information, visit http://www.ccar.us.