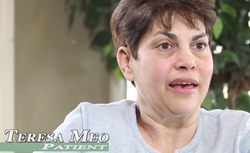 We only have good praises to say about CareOne.
Holmdel, NJ (PRWEB) April 30, 2015
CareOne, New Jersey's premier senior care company, recently released the first videos in a new series of patient and employee testimonials. "It's important for prospective patients and their family members to learn as much as possible about the quality of care they can expect to receive prior to their stay at one of our centers," said Chief Strategy Officer Tim Hodges. "Our new testimonial videos will enable them to see patient, employee and physician experiences first-hand and get a real feel for the center's environment."
CareOne at Holmdel resident Teresa Meo shared her experience on the center's testimonial video. "I've had a good experience," she said. "It's really a happy place. Everyone who works here walks around with a smile. It's like a family away from home." Fellow patient Ralph Magnotti described his CareOne at Holmdel stay as "the best I've ever been taken care of in any place in my life." He called the staff "professionals and they really care about the individual person. They're not doing it for the salary." Sisters Janet Como and Tina Wunder visit their mom, who is a resident at CareOne at Holmdel, almost every day. "We only have good praises to say about CareOne," said Janet. "Everybody here is very caring," added Tina. "It's like a second family." To watch the complete video, please visit https://www.youtube.com/watch?v=W8hLb4bCEHI.
For more information about CareOne and to view the testimonial videos, please visit http://www.care-one.com.
About CareOne
With services that include post-hospital care, rehabilitation, assisted living, long-term care and a variety of clinical specialty programs, CareOne offers compassionate care in gracious, professionally managed centers and communities. CareOne serves thousands of patients every day and admits/discharges more than 20,000 patients every year. With more than 29 centers, CareOne's outstanding programs and services are conveniently located throughout New Jersey. For more information about CareOne, please visit http://www.care-one.com. Follow us on Twitter at @CareOneMgt, on Instagram at @careonemgt, on Facebook at CareOne Management, LLC, on YouTube at CareOne and on LinkedIn at https://www.linkedin.com/company/careone-management-llc