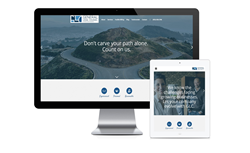 Seattle, WA. (PRWEB) May 02, 2015
Seattle web design firm, efelle creative, launched a new website for San Francisco law firm, General Legal Counsel (GLC). efelle's LawFirmFusion website content management system powers their online service listings, SEO improvement, news blogs, attorney profiles, and more.
General Legal Counsel (GLC) is a small law firm that represents growing companies who often are not at the point of hiring their own in-house attorneys, but need consistent legal representation. GLC's practice areas and services focus on helping clients grow their businesses, while offering traditional business legal support as well.
GLC was looking for a more modern and friendly website for their clients. The website needed to be responsive so it could be viewed on any mobile device and therefore attract more leads. efelle's LawFirmFusion helped GLC boost their SEO and gave their lawyers complete access to update their staff profiles freely. GLC is especially excited about efelle's Testimonial Module which allows them to share all of their successful client cases and results.
LawFirmFusion is the first fully-integrated marketing and management platform designed specifically for law firms. The FusionCMS system and LawFirmFusion platform allows GLC to manage and update all of their website content – from staff profiles (complete with automated PDF generation), to the service listings, to the online contact requests – in real time, with no coding experience or costly webmasters necessary. The platform also streamlines the firms' internet marketing efforts, including their company news blog (with social media sharing) to reach every potential client that may be in need of their services.
Click here to see General Legal Counsel's new site.
To check out other websites that use the LawFirmFusion system, visit efelle's online portfolio.
About efelle Creative
With more than 550 successfully completed custom website design and development projects under its belt, efelle specializes in custom website design and development with an emphasis in organic search engine optimization. Over the past 10 years, Efelle has grown into a full, in-house team of web design and developers, internet marketing professionals, and production and support staff and continues to produce complete online marketing systems for clients nationwide from its Seattle offices. efelle creative is an award-winning design firm and received 34 national and international design awards in 2014 alone.
In addition to its law firm website platform, efelle also offers other custom online marketing solutions including web design and website content management for ecommerce businesses, professional service companies, real estate industry professionals, chambers of commerce, and more. Contact us today at 206.384.4909 to learn how we can help you with your law firm or business website design!