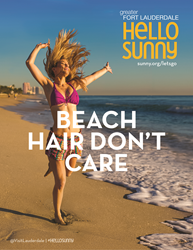 "This was a wakeup call that we needed to find a way to resonate with this important market." - Lisa Hoffman-Linero
Fort Lauderdale, FL (PRWEB) April 30, 2015
Starmark International, a full-service integrated communications agency, recently developed the first integrated millennial tourism campaign for client, the Greater Fort Lauderdale Convention & Visitors Bureau (GFLCVB).
A benchmark study in the Northeast and Midwest, Florida tourism feeder markets, revealed that millennials did not have Greater Fort Lauderdale in their vacation mindset at all. "This was a wakeup call that we needed to find a way to resonate with this important market," said Lisa Hoffman-Linero, Starmark Chief Marketing Officer. "We needed to start from the beginning to make millennials aware of the destination, then to fall in love with it and ultimately book a vacation," stated Hoffman-Linero, Starmark Chief Marketing Officer.
The objective of the campaign was to introduce the GFLCVB Hello Sunny brand to the younger market, which now makes up 25% of the American population. "We saw a tremendous growth opportunity in these markets," explained Kim Butler, GFLCVB Vice President, Marketing and Communications. "We knew none of our competitors had been advertising to millennials in this way, and we saw this as our chance to make an impact with them."
Starmark has headlined Florida's state destination marketing awards "The Flaglers" presented by Visit Florida, with "Best of Show" for three years in a row. And, in the last four months Greater Fort Lauderdale and Broward County have led the state in percentage of occupancy of hotel properties, and has celebrated 66 months of continued growth over previous years.
Starmark crafted the main campaign message, which was centered around the fact that Greater Fort Lauderdale offers action-packed fun in a "chill" beach destination. This positioning helped differentiate the destination from its competitors and set the tone for the vibe of the campaign.
The campaign included seven spots airing as bookends to highlight the juxtaposition of both Greater Fort Lauderdale's chill and action-packed vibes. The spots showcased millennials enjoying and sharing activities that the destination has never before featured: horseback riding, bon fires, upscale brunches, beach concerts — all activities Starmark discovered were popular with millennials during their focus group study.
"Let's face it, this generation has grown up on social media and lives in a 117-characters-or-less world," said Dale Baron, Starmark VP Executive Creative Director. "To satisfy discerning twenty-somethings, the campaign was shot to feel bold, spontaneous and authentic – pictures needed to speak volumes. The messaging was crafted for social sharing with headlines like "Beach Hair Don't Care."
The media buy included on-demand TV such as Hulu and ABC Watch, with a target audience of 18-35 years of age in New York, Chicago, Philadelphia and Boston during the winter months.
Additional campaign elements included on-demand radio on Pandora and Spotify, targeted digital buys (primarily mobile), and targeted Facebook ads. Starmark also created an original song for the spots, which is now available as a ringtone. All elements drive to a millennial-specific landing page at sunny.org/letsgo
Starmark partnered with LP Media Films for filming and editing. New technology was employed for the production, including the high-end line of Sony F55 Digital 4K Cameras, as well as the use of Unmanned Aerial Vehicles for aerials and one of the the most sophisticated "Octo-Copters" in the industry. The team also implemented the use of underwater photographers, both still photography and video. A complicated task, various safety units such as police boats, rescue boats and "frogmen" had to be on hand in case of any unforeseen emergency in the water.
All in all, it was five days of very aggressive shooting, with many complex locations throughout Greater Fort Lauderdale to maneuver.
The campaign results to date have produced click-thru rates that have surpassed any previous campaign experience by the destination. Starmark tracked and adjusted the media to maximize results and literally cracked the code on resonating with millenials for Greater Fort Lauderdale. To view the video, click https://www.youtube.com/playlist?list=PLLfp7zKnIs6H8OdEiIaZkW-Ki0JeymI0d
"With such impressive numbers, we're anticipating even more success as we move ahead with a summer and fall programs," stated Butler.
###
About Starmark International
Starmark International, Inc. is a full-service integrated communications agency, headquartered in Fort Lauderdale, FL, that serves clients nationally. The agency specializes in strategic thinking, award-winning creative, branding, advertising, interactive and public relations. Since 1978, it has partnered with world-class companies to build measurable results. Starmark delivers fresh perspectives and smart thinking to ignite clients' business. Then, reinvests the knowledge to maximize return. It's big ideas. Bottom line. For more information, visit http://www.starmark.com
````````````````````````````````````````
About Greater Fort Lauderdale
From the seagrass to the sawgrass, Greater Fort Lauderdale boasts more than 34,000 lodging accommodations at a variety of hotels, luxury spa resorts, and Superior Small Lodgings reflecting a "beach chic" vibe. Visitors enjoy 23 miles of Blue Wave certified beaches, discover 300+ miles of inland waterways that run from the Intracoastal Waterway to the Everglades, dine at thousands of restaurants and eateries, get immersed in a thriving arts and culture scene and indulge in top shopping. For more info, contact the Greater Fort Lauderdale Convention & Visitors Bureau at (800) 22-SUNNY or visit http://www.sunny.org.