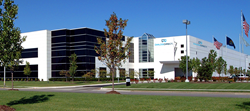 "We are very pleased to continue the investment in our local employees, the City of Highland Park and the Detroit metropolitan area." Doug Kearney, President and CEO of Dialog Direct
Highland Park, Michigan (PRWEB) May 01, 2015
Dialog Direct is looking forward to further growth in employment and business opportunity in their corporate headquarters and adjacent facilities, boosting the local economy in Michigan by keeping jobs and business revenue in the Detroit metropolitan area.
"I am excited to announce that Dialog Direct has furthered its commitment to our employees in southeastern Michigan and the City of Highland Park with the execution of a lease extension for our Corporate Headquarters for fifteen more years," said Doug Kearney, President and CEO of Dialog Direct.
Up to 1,000 people are employed in Dialog Direct's southeast Michigan facilities. Many of these employees live within a 15-mile radius of the headquarters.
"We are very pleased to continue the investment in our local employees, the City of Highland Park and the Detroit metropolitan area," Kearney said. "Our new lease gives us the ability to continue this commitment by allowing us to make some needed improvements to the physical infrastructure of the building and surrounding exterior and - in the long-run - will reduce our operating costs."
Dialog Direct's Corporate Headquarters is located at 13700 Oakland Avenue and includes the adjacent production facility at 350 Victor Avenue in Highland Park, Michigan. The extended lease now runs through the year 2030. Dialog Direct has seven other operating centers across the state of Michigan and employs over 3,000 people in the state (1,000 in western Michigan and 2,000 in southeastern Michigan). Doug Kearney and the Company were recognized by the Jobs4America association and Governor Snyder last year for creating over 2,300 jobs in Michigan over the last 18 months.
About Dialog Direct
Dialog Direct is a national marketing and customer engagement company that provides insights-driven solutions for businesses worldwide. With more than 5,700 team members across 16 locations in the United States, Dialog Direct provides a full range of sales and marketing support services – direct marketing, creative, customer service and sales, inside sales, order fulfillment, eCommerce and data analytics.
Dialog Direct helps businesses in nearly 30 diverse industries provide a total customer experience that builds lifelong customer relationships. Dialog Direct is ISO, ATA/SRO Certified, FDA, HIPAA and SSAE 16 Compliant, and has been recognized as "Fastest Growing Private Company" by Inc. Magazine for six consecutive years.
Please visit http://www.dialog-direct.com or call 800-523-5867 for more information.