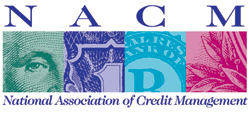 This is a month with some mixed messages. The overall CMI index number improved where it was last month, but only by a fraction.
Columbia, MD (PRWEB) May 01, 2015
The April report of the Credit Managers' Index (CMI) from the National Association of Credit Management (NACM) improved by a fraction and rose to 53.9, comfortably above contraction territory. "It would appear that a collapsed energy sector, winter worries and trepidation regarding dollar values and the interest rate weighed pretty heavily on previous months," said NACM Economist Chris Kuehl, Ph.D. "But most of these shouldn't be issues by the summer."
Upon receiving updated data for February and March, Kuehl revised some of the numbers and found them not as dramatically negative as originally reported. Hence, improvement in April from the updated data is only slight.
In the combined manufacturing and service sectors, the index of favorable factors increased from 58.3 in March to 59.8 in April. The categories of sales, new credit applications, dollar collections and amount of credit extended all showed increases. The index of unfavorable factors decreased slightly from 50.1 in March to 50.0 in April. Dollar amount beyond terms increased, while rejection of credit applications, disputes, dollar amount of customer deductions and filings for bankruptcies all decreased. Accounts placed for collection remained unchanged from March to April at 49.8.
"This is a month with some mixed messages," said Kuehl. "The year-over-year trend overall remained about as it has been and still seems to be a little volatile. Thus far, nearly all the blame can be laid at the feet of the index of unfavorable factors … Favorable factors are performing well as a group, but there are just too many unfavorable categories in the 40s right now."
For a full breakdown of the manufacturing and service sector data and graphics, view the complete April 2015 report at http://web.nacm.org/CMI/PDF/CMIcurrent.pdf. CMI archives may also be viewed on NACM's website at http://web.nacm.org/cmi/cmi.asp.
ABOUT THE NATIONAL ASSOCIATION OF CREDIT MANAGEMENT
NACM, headquartered in Columbia, Maryland, supports more than 15,000 business credit and financial professionals worldwide with premier industry services, tools and information. NACM and its network of affiliated associations are the leading resource for credit and financial management information, education, products and services designed to improve the management of business credit and accounts receivable. NACM's collective voice has influenced federal legislative policy results concerning commercial business and trade credit to our nation's policy makers for more than 100 years, and continues to play an active part in legislative issues pertaining to business credit and corporate bankruptcy. NACM's annual Credit Congress & Exposition conference is the largest gathering of credit professionals in the world.