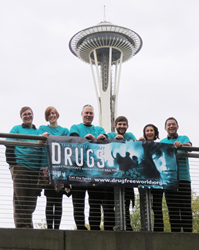 I literally had a 6th grade student at one of my schools who had 3.5 grams of cocaine—6th grade!
(PRWEB) April 30, 2015
It matters what kids think about drugs, and it's our job to get through to them because any school kid today is at risk, said an 18-year Seattle Police Force veteran who addressed a World Health Day conference on April 7 at the Church of Scientology of Seattle. He also shared what he's doing to get through to kids. He's using the Church of Scientology-sponsored Truth About Drugs materials and has done so for several years. He wanted to get across the point that mentoring is a very valuable tool in the fight against drugs—that youth need the guidance and help of mentors. And where the Truth About Drugs comes in is that mentors need tools to be effective.
"I literally had a 6th grade student at one of my schools who had 3.5 grams of cocaine—6th grade!" he said, which is why he swears by the "kid-friendly" Truth About Drugs materials, because when kids watch the PSAs and hear and see former addicts describe what these substances did to them, you can see the impact it makes. It connects with them.
The keynote speaker was a prevention and treatment manager for the Northwest High-Intensity Drug Trafficking Area (HIDTA), who spoke about statewide trends of drug use and how to combat them. Statistically, he showed in his presentation, Washington is one of the most problematic states when it comes to illegal drug use.
"Synthetics" are among the most dangerous substances on the market. Manufacturers market these to youth and avoid having them classified as illegal by alter them molecularly from substances that are banned. The lead volunteer of the Seattle Church's drug education and prevention initiative released the latest edition to the Truth About Drugs booklets, The Truth About Synthetic Drugs, and made copies available to those attending the conference.
He walked those attending the conference through how simple it is for anyone to use The Truth About Drugs curriculum. It is easy to mentor youth with these materials, which are all available online. There is even a virtual classroom app—all available free of charge.
The Church of Scientology supports The Truth About Drugs drug education and prevention initiative.
Inspired by the words of L. Ron Hubbard, Founder of the Scientology religion, that "a being is only as valuable as he can serve others," Scientologists wholeheartedly support these programs. Participation and collaboration in these initiatives is invited and welcomed from all who seek to improve conditions for themselves and others.
For more information, visit the Scientology website at http://www.Scientology.org/how-we-help/voice-for-humanity.