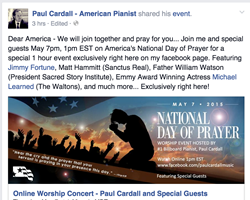 "... be a part of a moment in time when we unite America to pause and pray," said Cardall.
Salt Lake City, UT (PRWEB) May 01, 2015
Paul Cardall, a two-time No. 1 Billboard artist and Steinway pianist, along with several musicians, artists and pastors invite the world to pause for prayer on Thursday, May 7 at 1pm ET for the National Day of Prayer.
Cardall, whose new album "40 Hymns for Forty Days" is currently sitting No. 1 on Billboard's New Age Album list, is hosting the first-time online music and worship event, hosted here. In addition to Paul's music, several others will share personal prayerful messages, including Jimmy Fortune of the Statler Brothers, Matt Hammitt from Sanctus Real, and Emmy-winning actress and the mother from The Waltons, Michael Learned.
Cardall said most people don't have a good way to honor this national holiday because they are at work, or behind a computer. So, he thought he would bring the concert to them.
"With some earphones, you can plug in to watch, or listen, and be a part of a moment in time when we unite America to pause and pray," said Cardall, a survivor of life-threatening congenital heart defect and heart transplant after being given one year to live — five years ago. "I have a lot to thank God for and hope this event inspires others to connect to what's important in life."
Cardall said the event also features Steele Croswhite — No. 1 Billboard artist and worship pastor at The Rock in Salt Lake City, Charley Jenkins — country artist featured on "Nashville Star," Ryan Tilby — award-winning producer, engineer and guitarist, and Father William F. Watson — president, Sacred Story Institute.
40 Hymns for Forty Days is on 2 discs / 109 minutes long and is distributed by Stone Angel Music through Alliance Entertainment (CDBaby) and Deseret Book Distribution. Pandora Radio is streaming Cardall's new album to more than a million people world-wide.
Noteworthy Comments
"Paul's unique insight into why we suffer can help us find strength during the most difficult hours of our lives."  - Richard Paul Evans, #1 New York Times Best Selling Author, The Christmas Box
"Paul's story really touches my heart. He's a guy who exudes optimism. He's an inspiration to me and my family. In fact, we listened to his music before my son had open heart surgery."  - Bret Baier, Fox News Anchor
"Cardall's commitment to excellence in his artistic and professional achievement make it most appropriate that he is included on the Steinway Artist roster, a list of the most accomplished and discriminating artists in the world." - Jenn Gordan, Steinway & Songs Artist Manager
"Wonderfully Moving and Inspiring." - Chicago Sun Times