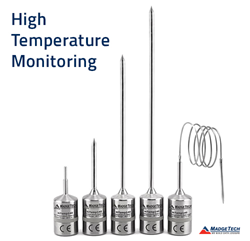 Warner, NH (PRWEB) May 05, 2015
For the growing list of high temperature monitoring demands, MadgeTech has created the HiTemp140 series of data loggers. This data logger series is based on a compact, stainless steel body, housing the electronic components for optimum performance throughout exposure to high temperatures and submersion without compromise.
The HiTemp140 data loggers are capable of storing up to 32,700 readings and feature a user replaceable battery with a typical battery life of one year or longer. All data loggers in the HiTemp140 series can be used in operating environments up to 140 °C (284 °F) and are offered with dozens of probe styles and options to accommodate many applications and temperature measurement ranges.
High Temperature Probe Options
HiTemp140: The standard HiTemp140 series includes several different rigid RTD probe models, available with 1 inch probes, 2 inch probes, 5.25 inch probes, and 7 inch probes. These four probe styles are capable of measuring from -200 °C to +200 °C (-328 °F to +500 °F). The 2 inch and the 5.25 inch probe styles are also available with a narrower transitional diameter (TD model) probe for ease of use when measuring the internal temperature of permeable materials, such as meat.
HiTemp140-PT: The HiTemp140-PT model has a 24 inch flexible stainless steel probe with either a 1 inch or 5 inch sheath tip. This probe is capable of measuring -200 °C to +350 °C (-328 °F to +662 °F) and can be bent, positioned or spiraled to log temperature in places that are typically hard to reach. The HiTemp140-PT is ideal for use in conveyor cooking and cooling cycles, oven monitoring, refrigerator mapping, and autoclave validations.
HiTemp140-FR: For environments that experience rapid fluctuations and require a device with an ultra-fast temperature response time, MadgeTech offers the HiTemp140-FR Fast Response Data Logger. This data logger features a thinner diameter 2 inch probe capable of recording up to 4 Hz, four times faster than the other models in this series. The probe can measure ambient temperature from -200 °C to +250 °C (-328 °F to +482 °F). With a focus on rapidly changing environments, the HiTemp140-FR is commonly used for oven profiling, chamber mapping, seafood processing, and flash freezing.
HiTemp140-FP: The HiTemp140-FP Flexible Probe Data Logger model is equipped with a long flexible thermistor probe coated with PFA insulation. Offered in either 36 inch or 72 inch length, this probe style is lightweight and very flexible, allowing it to be easily inserted into vials, test tubes and other delicate areas that could break if metal probes were to be used. For lyophilization and steam sterilization cycles the HiTemp140-FP is ideal having the capacity to measure from -60 °C to +260 °C (-76 °F to +500 °F).
HiTemp140X2: The HiTemp140X2 Dual Probe Data Logger series features two probes for extended measuring opportunities. This logger series allows for ultimate customization with probe combination options designed to measure ambient and remote temperature, or two remote temperature locations, depending on the selected probes. The combinations include the 2 inch FR probe, the 24 inch PT probes, the 36 inch FP probe or 72 inch FP probe options. The measurement ranges are dependent upon which probes styles are selected.
Extended Temperature Ranges
Some applications require the body of the logger be subjected to higher temperatures than 140 °C. For this, MadgeTech has created a series of enclosures to extend the operating range of compatible data loggers. The HiTemp140-TS thermal shield enclosure can be used with several different HiTemp140 data logger models to extend the operating range to –200 °C to +250 °C (-328 °F to +482 °F). The enclosure is available with a vented or flush top, depending on the application needs. Peanut roasters, autoclave validators, and food processors can all benefit from the extended temperature capabilities that the thermal shield provides.
For even higher temperature ranges such as those used for depyrogenation, or dry heat sterilization, MadgeTech offers the ThermoVault140. This rugged stainless steel thermal barrier can withstand temperatures up to +250 °C (482 °C ) when submerged, and +350 °C (662 °F) in dry heat. The Thermovault140 is compatible with the HiTemp140-PT Data Loggers.
HiTemp140 Accessories
To enhance the effectiveness and efficiency of the HiTemp140 series, MadgeTech offers a number of data logging accessories and fittings.
Programming and Downloading: For single data logger connectivity and download, the IFC400 interface cable connects the data logger to the central PC. For managing larger quantities of loggers simultaneously, MadgeTech also offers the IFC406 Multiplexar that allows up to six HiTemp140 style data loggers to be connected through one USB port. Up to three Multiplexars can be connected together, allowing users to program and download data from up to 18 devices at one time. This saves time and allows for faster deployment and access to data. The IFC406 is compatible with the entire HiTemp140 series of loggers, as well as humidity and pressure data logger models with the same body style such as the RHTemp1000 and the PRTemp140.
Mounting: For deploying HiTemp140 data loggers, MadgeTech offers the following accessories to make logger positioning and stabilization easy.
The MagMount-1 is a steel magnetic holder that easily clips onto the logger and can be attached to any magnetic surface. This makes deploying loggers in refrigerators, freezers and incubators a simple task.
Similarly, the MultiMount-Z Data Logger Stand is made to stabilize the logger during the recording process. Featuring pre drilled screw holes for mounting, the MultiMount-Z can be attached on its side, or on the flat base to assure the HiTemp140 will remain stable during the entire logging cycle.
For use specifically in the canning industry, MadgeTech has created the CF100 Canning Fitting for HiTemp140 Data Loggers. This device secures the logger to the can with the probe inside to follow the product through the production cycle. This is useful in a wide range of industries that utilize canning, and with the variety of probe lengths available can accommodate a multitude of can sizes.
Another convenient option for the HiTemp140 series is the Key Ring End Cap. This replaces the standard flat bottom end cap and allows the data logger to be attached and hung with the probe pointing down for deployment in deep cavities or suspended from any ceiling, container roof.
Probe Attachments: Compatible with the HiTemp140-FP is the MicroDisc Surface Temperature Probe Attachment. This small, brass puck attaches directly to the flexible probe tip and can be placed flat on a surface to measure surface temperature. This is used when measuring shelf temperature in processes such as lyophilization.
What's New
Coming in May 2015, MadgeTech will begin shipping the latest addition to the HiTemp140 series, as well as a new system designed specifically for depyrogenation, or dry heat sterilization cycles.
The HiTemp140-M12 Data Logger features the same rugged stainless steel body as the other data loggers in the series, but offers interchangeable probe options using an M12 type connector. The M12 connectivity makes this versatile data logger compatible with the large variety of M12 probes available today. The HiTemp140-M12 is capable of measuring and recording temperatures from -200 °C to +850 °C (-328 °F to +1562 °F). (Probe dependent)
The ThermoVault140-DHS Dry Heat Sterilization Data Logging System will start shipping in May as well. This system includes the HiTemp140-M12 data logger, a 36 inch glass braided RTD thermocouple probe with ceramic tip, and the ThermoVault140 thermal barrier. This complete system has been engineered to monitor dry heat sterilization cycles and can withstand up to +400 °C for 50 minutes, which makes it the perfect option for monitoring the entire depyrogenation cycle.
We've Got You Covered
The diverse line of the HiTemp140 High temperature Data Logger series provides solutions for virtually hundreds of temperature monitoring applications by offering a wide variety of probe styles, enclosures, accessories and systems. Call today and speak with our technical sales team; they are happy to assist and recommend the perfect fit for your application needs.
For more information on any data loggers including the HiTemp140 series, please call MadgeTech Sales representatives at (603) 456-2011, or email info(at)madgetech(dot)com . For more product details and specifications, or to order online please visit http://www.madgetech.com.