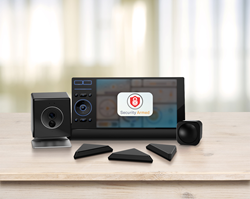 Actually being, not just feeling, safe and sound is a paramount consideration for most people. We want to ensure that it is easy enough for anyone to set-up, and affordable enough for anyone to have.
Chicago, IL (PRWEB) May 01, 2015
Fantem, the creators of Oomi, an innovative smart home system, announces a strategic partnership with netTALK, a leading provider of home phone and smartphone communications, to provide a cost effective alternative to current home security options. The solution, Oomi Personal Home Monitoring powered by netTALK, will provide users peace of mind that their property and loved ones are safe and secure, even when they are away from home. The system utilizes Oomi's security features and leverages netTALK's communication platform to allow users to proactively monitor their home and communicate with its occupants at a fraction of the cost of other home security solutions. The service will be available as an add-on service to an Oomi smart home system for $60 per year. Personal Home Monitoring will enable:

Video and audio monitoring of the home
Incident notification via phone call; glass breaking, opening of doors and windows, motion detection, and more
Creation of calling trees for notifying an emergency contact list on event triggers
Mimicking lighting patterns to deter break-ins and appearance of vacant home
Direct audio communication to people inside the home through Oomi Cube
Direct connect to emergency services, police, fire, ambulance, if needed
"We're excited to be partnering with netTALK to create an affordable but effective home security solution", said Colin Marshall, Vice President at Fantem. "Actually being, not just feeling, safe and sound is a paramount consideration for most people. We want to ensure that it is easy enough for anyone to set-up, and affordable enough for anyone to have."
"We've been able to help our customers fire their phone company," said Anastasios "Takis" Kyriakides, founder and CEO of netTALK. "Partnering with Oomi is going to finally allow everyone to fire their home security company as well."
The Oomi Security Kit is currently being offered during a limited time pre-sale event for $389, a savings of $310 off retail.
The Kit includes:

Oomi Cube - a sensor-packed brain for the entire system. It includes 8 sensors and a night vision camera.
Oomi Touch - the primary controller for the Oomi smart home system enables Tap-and-Touch set-up of accessories in two easy steps, it can even control television and replace old remotes.
Oomi MultiSensor - a 6 in 1 sensor that includes motion detection
Oomi Door & Window Sensors – three are included in the Security Kit
Oomi also offers additional smart home accessories outside of the Security Kit including: Oomi Bulb, which is a color-changing LED bulb; Oomi Streamer, which can play content from the internet on high definition television, and Oomi Air, which is an air quality sensor; and Oomi Plug, which turns normal outlets into smart outlets.
In just over one week after launching on Indiegogo, Fantem's flagship product, Oomi, has reached almost $500,000 in funding. Fantem originally sought to raise $50,000 with this campaign, and surpassed its original funding goal for the smart home system within the first 37 minutes.
About Fantem
Fantem is a developer of innovative products and solutions for the home. It is dedicated to the worldwide consumer adoption of smart home technology and the Internet of Things (IoT) through the development of home automation solutions that remove the complexity and frustration associated with existing systems. Together with its global team of experts and partners, Fantem set out to create the first smart home management system that is not only the easiest to install, set-up, and use, but also the first smart home system that is actually smart. The result of this effort, Oomi, is set to revolutionize the future of home automation, not only by positively impacting upon multiple areas (home safety and security, home environment and home entertainment) of users' home lives, but by also making it accessible to the everyone - "a system designed for the rest of us!" Fantem is based in Chicago with offices and strategic partners spanning four continents. For more information, visit http://www.oomihome.com.
About netTALK
At netTALK we believe everyone should have access to super simple and affordable home and on-the-go digital phone service. We Connect You ® to our global communications network through our DUO devices and CONNECT mobile apps, which ring simultaneously - answer on the device that is most convenient to you. We provide a high tech, simple and ultra-low cost service with just one bill once a year. For more information, visit http://www.netTALK.com