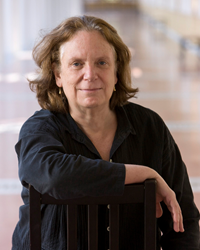 Seattle, WA (PRWEB) May 04, 2015
Award-winning stage/opera director and author Anne Bogart will address Cornish College of the Arts' centennial class on May 9 at Marion Oliver McCaw Hall in Seattle. Cornish theater majors already know the work of Bogart. Her methods and many books on finding the moment in acting are standard fare in that department. But her wider views on the importance of the creative in everyday life will ring true to the more than 200 graduates receiving diplomas this year.
Bogart is one of the Artistic Directors of SITI Company, which she founded with Japanese director Tadashi Suzuki. Her three books of essays on theater-making: "A Director Prepares," "What's the Story," and And "Then, You Act" are standard reading for theater professionals. She has taught numerous workshops and seminars as well as written on both the Suzuki method and Viewpoints, training methods used throughout contemporary theater.
President Nancy J. Uscher will confer degrees on more than 200 graduating seniors on May 9 at McCaw Hall. Bogart and and choreographer and McArthur "Genius Grant" recipient Liz Lerman will receive honorary degrees. In addition, this year's Distinguished Recent Alumni Awards will go to artistic collaborators Jerick Hoffer (aka Jinkx Monsoon) and Richard Andriessen. The Distinguished Alumni Award will go to Kent Devereaux, president of the New Hampshire Institute of Art.
"As part of our ongoing Centennial celebrations, we're honored to have these notable artists and alumni join us for this joyous event," said Uscher. The college was founded in November 1914. Among the year's special events marking the occasion have been the Centennial Gala at the Paramount Theatre, headlined by Cornish graduate and Grammy nominee Mary Lambert; a current exhibition of recently discovered photos taken by famed photographer Imogen Cunningham at Cornish during the 1930s; and more than 100 student performances and exhibitions throughout the year including May's EXPO 15, a display of work by 98 graduating seniors in art and design.
After graduating from Cornish in 2010, Hoffer's drag queen persona, Jinkx Monsoon, became the season five winner of RuPaul's Drag Race. Hoffer holds a record on the show for being on the top for eight consecutive weeks. The documentary film about Hoffer, Drag Becomes Him, opened this month. During their time at Cornish, and after graduation, Andriessen and Hoffer developed the musical comedy revue that became "The Vaudevillians."This show has played to sold-out houses in New York and Seattle.
Composer and writer, Andriessen also created the off-Broadway solo show, "Major Scales' Minor Breakdown," at the Laurie Beechman Theatre in New York. He also wrote and performed on the Inevitable Album with Hoffer.
"Throughout its history, Cornish has opened its doors to artists with bold dreams and embraced those who wanted to make a difference in the world," said President Uscher. "The artists we honor at Commencement, and the graduates who leave here to become the next generation of distinguished alumni, uphold that tradition. We are very excited to see what they will accomplish next as artists, citizens, and innovators."
Due to other commitments, Hoffer will be unable to attend the event, but his award will be accepted by Andriessen.
The Cornish Centennial Commencement will take place at 11:00 a.m. on Saturday, May 9, at Marion Oliver McCaw Hall at Seattle Center. Cornish College of the Arts awards Bachelor of Music and Bachelor of Fine Arts in art, dance, design, performance production, and theater as well as a post-graduate Artist Diploma in Early Music.
About Cornish College of the Arts
Founded in 1914, Cornish College of the Arts in Seattle, WA, offers Bachelor of Fine Arts degrees in Art, Dance, Design, Performance Production and Theater, a Bachelor of Music degree and an Artist Diploma in Early Music. Since its beginning, the College's founder Nellie Cornish, and the many teaching artists who followed her, believed in education through exposure to all the arts. This approach continues to inform the College's curriculum and community involvement today. The College is accredited by the Northwest Association of Schools and Colleges, and the National Association of Schools of Art and Design.
The College owns or operates more than a dozen buildings in three Seattle neighborhoods. Its main campus is located at South Lake Union, where the 20-story Cornish Commons will open in 2015. The Art, Design, Film+Media Department, the Theater Department, and the Performance Production Department offices are located on this campus. Cornish also owns the historic Kerry Hall on Capitol Hill, built by the College in the 1920s, where dancer Martha Graham, composer John Cage, and Northwest painter Mark Tobey all instructed students. This building continues to serve today as the home of the Music and Dance departments and houses PONCHO Concert Hall.
In addition, Cornish operates the Cornish Playhouse at Seattle Center, originally built for the 1962 World's Fair and former home of the Seattle Rep and Intiman Theatre, respectively. Today the Cornish Playhouse and the Cornish Playhouse Studio, as well as the nearby Scene Shop on Roy St., are used for college programs and student productions as well as serving more than 30 nonprofits annually.
For more information, please visit: http://www.cornish.edu
Centennial Celebration Year Partners
Cornish Centennial celebration year activities have been made possible in part by the following Centennial Celebration Year Partners: Ankrom Moisan, Capstone Development Partners, Cochran, Howard S. Wright and Sellen.