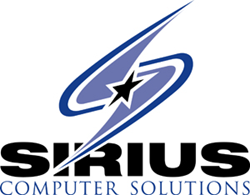 Combining our companies continues Sirius' strategy of expanding our solution expertise and strengthening our technical skills in order to better serve our clients.
San Antonio, TX (PRWEB) May 01, 2015
San Antonio, TX – 1 May, 2015 – Sirius Computer Solutions, Inc., a leading national IT solutions integrator, today announced it has acquired Varrow, Inc., a technology solution provider headquartered in Greensboro, NC. As a result of this acquisition, Sirius expands its presence in the East and deepens its skills and expertise in strategic IT growth areas such as cloud, storage, converged infrastructure, virtualization, mobility and security.
Founded in 2008, Varrow is highly regarded in the Carolinas and in Virginia for its focus on providing world-class technology solutions through advanced consulting, design and managed services. With revenues of $146 million in 2014, the company has successfully grown its business by specializing in cloud, mobility and security solutions. Solution offerings also include data storage management, virtualization, and disaster recovery.
According to Joe Mertens, president and CEO of Sirius, "Our clients are moving more and more toward converged infrastructure and private cloud solutions. We are also seeing increasing demand for mobility and security solutions, so we have continued to invest in those practices. Varrow brings a wealth of expertise in these areas, and they have earned their clients' respect with the exceptional quality of their people and services. Combining our companies continues Sirius' strategy of expanding our solution expertise and strengthening our technical skills in order to better serve our clients."
Jeremiah Cook, managing partner and CEO of Varrow said, "I am very impressed with Sirius' heavy focus on technology excellence. They have very talented people, a great company culture and a strong management team. I am excited that Varrow is joining the Sirius family. We have similar values, and our combined strengths will benefit our clients, partners and employees."
AJ Ragosta, managing partner and COO at Varrow added, "By joining forces with Sirius, we can now provide our clients with access to deeper expertise across a wider array of technologies and solutions. We also now have the scale and capabilities to meaningfully assist in resolving the largest and most complex challenges facing IT organizations today. We are confident that the net result of joining with Sirius will be a better overall client experience."
Dan Weiss, managing partner and CFO of Varrow concluded, "Joining Sirius gives Varrow a tremendous opportunity for continued growth. The Varrow team will extend Sirius' reach in the East Coast. We will continue to help our clients succeed in this region, but now we will have Sirius' resources as well. Additionally, we both have strong partnerships with leading technology manufacturers. In joining forces, those partnerships will be greatly enhanced with our broader national geographical reach."
About Sirius Computer Solutions: Sirius is a national integrator of technology-based business solutions that span the data center and lines of business. Built on products and services from the world's top technology companies, Sirius solutions are installed, configured and supported by our dedicated teams of highly certified experts. Sirius is focused on helping organizations of all sizes reduce cost and complexity, improve service levels, and minimize risk through the implementation of strategic solutions that include cloud, analytics, mobility, security, IT infrastructure optimization and more. For more information about Sirius, visit http://www.siriuscom.com.
About Varrow, Inc.: Varrow is a leading regional provider of technology solutions and services in the areas of cloud, mobility and security. Known for the quality of its engineers and a client-centric culture, Varrow is helping organizations transform their IT operations and infrastructure to be more agile and responsive to the business. Whether an organization is looking to make a wholesale move to the cloud, is striving to deliver IT as a Service (ITaaS) more effectively to its end-users, or just wants advice on where to start, Varrow can help. For more information about Varrow, visit http://www.varrow.com.
Contact Information:
Vin Tugade, Corporate Communications Manager, Sirius Computer Solutions
Phone: 503-597-6621; Email: vin(dot)tugade(at)siriuscom(dot)com
All brand, service and product names are trademarks or registered trademarks of their respective companies.
###