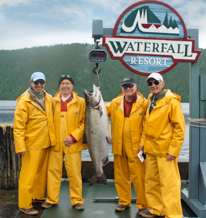 Ketchikan, Alaska (PRWEB) April 30, 2015
With more than 100 years of history, Waterfall Resort is happy to confirm that getting older has its benefits. In honor of Senior Travel Month this May, the most popular fishing lodge in Alaska is offering 25% off stays at the resort for anglers 65 and older during Seniors Week, August 11-14. To make the deal even sweeter, guests can bring their grandchildren by taking advantage of the resort's Kids Rate, with 15% off travel for children ages 15 and younger to experience southeast Alaska's unforgettable wilderness and wildlife.
Near Ketchikan, just a 90-minute flight from Seattle, Waterfall Resort invites anglers of all ages and skill levels to experience legendary sport fishing excursions where they have the chance to land trophy-size Alaska king salmon (Chinook), silver salmon (Coho), halibut, lingcod, yelloweye rockfish and more than 20 other abundant species. Southeast Alaska's natural landscape allows for awe-inspiring wildlife encounters including orcas, humpback whales, bald eagles, black bears and more. After a full day of fishing, guests can explore the resort's 52 acres, feast on hearty fresh Alaskan meals in the Dining Room, recount the day's adventure at the Lagoon Saloon and relax comfortably in historic accommodations.
All-Inclusive Seniors Week Packages Include:

Seniors 65 and older get 25% off any land package
May be combined with Kids Rate, offering 15% off for children 15 and younger
Round-trip sea plane tour to Waterfall Resort from Ketchikan, AK
Lodging in historic Boardwalk Cabins or Oceanfront Lodge Rooms (double occupancy, upgrades available)
Hearty all-you-can-eat Alaskan fare
Full service guided sport fishing on 25′ heated cabin cruisers (4 guests per boat)
Use of high end rods, reels, all-weather gear and all other fishing equipment
Professional fish processing, cutting, vacuum-packing and freezing
On site Alaska Airlines agent to check in you and all your bags and fish boxes
Ground crew in Ketchikan International Airport to assist with transfers
Daily housekeeping and all other resort services
Free Wi-Fi hotspots
For more information, please call 800-544-5125 or visit WaterfallResort.com.
###
About The Waterfall Group
Leaders in adventure hospitality management on land, on the water and in the air, The Waterfall Group delivers extraordinary outdoor lifestyle experiences featuring unique and scenic destinations, marine and aviation expertise, satisfying local cuisine, easy travel and warm, friendly customer service. Founded in 1980, The Waterfall Group markets, operates and supports multiple lines of business nationally from all-inclusive Alaska sport fishing lodges to sea plane tours in the Florida Keys.