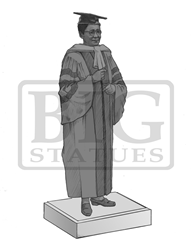 Provo, Utah (PRWEB) May 02, 2015
Rosa Young was a big part of the civil rights movement but her work was much more behind the scenes. In 1912 she started a school in the rural south. At this time she was only 22 years old. But she didn't stop there. Rosa Young went on start 30 schools. One that still stands today is Concordia College Alabama, Selma. Along to being a major advocate of black rural children in schooling, Rosa Young was known as "the mother of black Lutheranism in Alabama." She dedicated her whole life to promoting and developing the Lutheran church in Alabama. Rosa Young died in 1971 but left a legacy on the schools and churches that she helped that will last forever.
Now, all these years later, Rosa Young will be remembered and immortalized in bronze in one of the very churches she built up. 700 custom miniature statues are being crafted by Big Statue's main sculptor Matt Glenn in hopes of fundraising a life size statue of Rosa Young to put on the church property in Alabama. Final touches are being made to the statue now to make sure each detail is perfect. The miniature statues will be available for purchase to the public in just a few months.