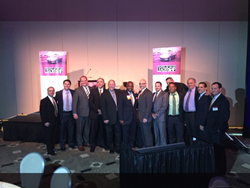 "We take pride in our commitment to excellence, and I truly believe that earning this recognition from Honda speaks to that commitment." -Mike Saporito
HAMILTON, NEW JERSEY (PRWEB) May 01, 2015
Hamilton Honda is proud to announce that eight of its employees were recently honored with Honda Council of Sales Leadership awards for 2014.
The Honda Council of Sales Leadership program annually recognizes Honda dealership team members who exhibit professional development and sales excellence. This year's ceremony was held on Tuesday, April 14, at the Borgata Casino & Hotel in Atlantic City, New Jersey.
Those being recognized by this year's program were honored by Honda executives, including Sam Dolente and Tom Sterling, at a lavish banquet. More than 200 sales consultants were in attendance.
The Gold Team from Hamilton Honda included Adam Welsh, Andrew Jones, Andrew Rubio, Jeff Breza, Rob Hernandez and Humberto Salas, all of whom won for the second year in a row, as well as Brad Fischer who won for the first time. The team also included Gold Master honoree Zack Musari, who also earned the distinction of being one of the top 100 Honda sales consultants in the country for the second consecutive year.
"It's such an honor to have so many of our team members earn this prestigious award," said Mike Saporito, co-owner of Hamilton Honda. "We take pride in our commitment to excellence, and I truly believe that earning this recognition from Honda speaks to that commitment."
Each of the attendees of the Honda Council of Sales Leadership Program Awards was welcomed with a cocktail reception, followed by dinner and an awards ceremony. Each dealership from Zone 5, which includes New Jersey, Pennsylvania, and the New York City metro area, was honored in a video presentation of the all-new 2016 Honda Pilot and the Honda Civic concept car during the dinner.
All winners and their guests were also provided with a complimentary overnight stay in the casino, which included breakfast, a congratulatory Nike cargo bag and the Google Chromecast.
Those who would like to find out more about this award or Hamilton Honda's dedication to excellence in sales, service and more can visit the dealership or the website at http://www.hamiltonhonda.net/.
ABOUT HAMILTON HONDA
Hamilton Honda was founded by former New York Giants Pro-Bowl linebacker Jessie Armstead and automotive veteran Mike Saporito, and opened its 65,000-square-foot, state-of-the-art facility in Hamilton, New Jersey, on May 19, 2009. After only one year in business, Hamilton Honda skyrocketed into the top 10 Honda retailers in the country. The dealership has earned numerous accolades, including the Hamilton Township New Business Award, Hamilton Community Enrichment Award and "Dealer of the Year" at the 15th Annual Urban Wheel Awards in Detroit. The dealership has also been recognized with the President's Award, American Honda Motor Co.'s most prestigious recognition, in 2010, 2012 and 2013, as well as with the Council of Excellence Award in 2010, 2011, 2012, 2013 and 2014. To learn more about Hamilton Honda, visit http://www.hamiltonhonda.net/.