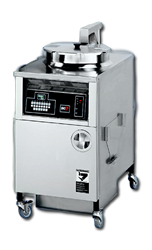 We are excited about raising our service levels yet again...
Holts Summit, Mo (PRWEB) May 01, 2015
While Pro Food Systems (also known as PFSbrands™) has long experienced excellent success in the equipment market segment, the new division further elevates the company's emphasis on commercial kitchen equipment. The ever-increasing demands for this type of equipment has developed as a result of the rapid-growth trend in hot food programs, which deliver some of the highest profit margins available now to supermarket and c-store operators.
In keeping with PFSbrands focus on extreme customer support, the Equipment Division will make available hands-on, in-store training without charge on brand-name equipment procured through the company. Using this customer-centric, value-add approach, the division will develop the levels of support necessary for its retail customers to take advantage of operational practices, which will lead to improved food quality and efficiencies for their deli and kitchen areas.
The new division will be headed up by industry veteran, Darrell Hale, who will have full responsibility for its end-to-end operations. In his 14-years' tenure at Pro Food Systems, Hale has led the company's supply of equipment (e.g. hotcases, auto-lift fryers, breading tables, combi-ovens, convection ovens, warmers, hot sandwich sliders and more) to well over 1,000 supermarkets and c-stores.
"Our field team and I will continue to assist retailers in 4 primary ways: 1) selecting the right equipment to maximize their ROI, 2) optimizing layout for kitchen and deli areas, 3) teaching efficient operational procedures, and 4) troubleshooting equipment as issues arise," said Hale, who was named Vice President for the Equipment Division. "We are excited about raising our service levels yet again by the planned launch in 45 days of our new e-commerce site for foodservice equipment. While we will continue to emphasize personalized support, the new site will supply c-store and supermarket operators with instant 24x7 access to equipment information, specs, pricing and ordering capability."
ABOUT PRO FOOD SYSTEMS, INC.
Pro Food Systems, Inc., also called PFS brands™, provides branded hot food programs primarily for supermarkets and convenience stores. PFS brands (PFS) is the parent company of Champs Chicken®, Cooper's Express® and Private Label brands. The company also supplies non-branded food products and foodservice equipment for retailers. PFS is known for its high quality food, premium chicken tenders and high levels of support for its retail partners. PFS distributes its foodservice equipment, chicken and other savory products out of the company's 65,000 sq. ft. corporate headquarters and national distribution center located in Holts Summit, Missouri. Now with over 700 branded locations in 36 states, Pro Food Systems remains one of its industry's fastest-growing, privately-held companies in the USA.
###