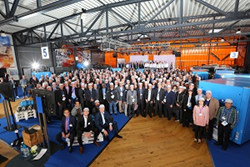 Our compressors are equipped with the latest generation of control and monitoring systems
Powder Springs, GA (PRWEB) May 04, 2015
While some people have been waiting for the launch of an expensive wristwatch that apparently provides the same services a smart phone already does, BOGE representatives and customers have waited in anticipation for something – literally - bigger.
Against an impressive backdrop of historical airplanes at Germany's Paderborn-Lippstadt Airport, compressed air systems manufacturer BOGE unveiled their latest innovations as part of their customer appreciation event. BOGE America guests were among invitees from more than 50 countries to be part of "Industry 4.0," BOGE's take on manufacturing innovation.
To keep everyone at their pre Hannover Trade Fair Customer Appreciation Day on the edge of their seats, managing director Thorsten Meier delivered the goods when he revealed that BOGE is launching a new era for oil-free compressed air.
"Working in an interdisciplinary team, we have developed a highly efficient machine," Meier said enthusiastically. "We are particularly proud of the fact that everything, including motors, frequency converters, controls and even the software, are made by BOGE."
What Meier referred to as high-speed turbo technology created the most buzz among BOGE America representatives and customers.
"Our compressors are equipped with the latest generation of control and monitoring systems," explains Meier. "This allows the whole compressed air supply system to be incorporated into a forward-looking production process – entirely along 'smart factory' lines. It will revolutionize the compressed air sector," He added.
According to Scott Woodward, General Manager, BOGE America, who travelled to Germany to attend the HMI Show along with several of BOGE America's representatives and guests from the USA, Canada, Mexico, Ecuador and Chile, "BOGE unveiled new technology that will have an enormous impact on the Compressed Air Industry. Leading edge technology will position BOGE as a leader in innovation. It is an exciting time to be at BOGE and the future is bright. There is a lot of excitement over the potential the new High Speed Turbo Compressor offers our customers in terms of efficiency and energy savings. The feedback from our customers at the Hannover Trade Fair was incredible and they are all excited about the High Speed Turbo Compressor".
The new technology offers significant upgrades to previous technology as well as cost savings of up to 30 percent. Since smart factories have the potential for changing lives more significantly than your average smart phone, the trip to Germany proved very exciting for BOGE America representatives and their guests.
About BOGE Compressors:
BOGE America is the United States of America's Daughter Company of BOGE International GmbH based in Bielefeld, Germany. BOGE manufactures a comprehensive range of oil lubricated and oil free screw and piston compressors used by all sectors of industry to supply compressed air for a wide range of manufacturing processes. The company also supplies a complimentary range of filters, dryers and condensate management equipment. The product is sold and serviced through a dedicated network of over 50 distributors in North and South America.