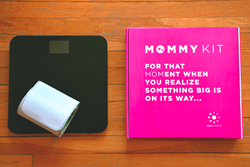 "This study demonstrates that not only will patients use technology to self-manage their pregnancies, but that physicians can begin to reap some substantial operational efficiencies if they participate in mobile health."
Washington, D.C. (PRWEB) May 01, 2015
Digital technology and Wi-Fi-enabled medical equipment may help doctors monitor and manage pregnant women between prenatal appointments, a preliminary study has shown.
The preliminary study, of a small sample of low-risk pregnant women, will be presented as a poster by researchers at The George Washington University Medical Faculty Associates at the 2015 American Congress of Obstetricians and Gynecologists (ACOG) Annual Clinical and Scientific Meeting, May 2-6. The digital technology used was developed by Babyscripts™, a pregnancy technology to help doctors monitor and manage pregnant women outside the office.
Excessive weight gain and high blood pressure are strong risk factors for poor pregnancies, the study noted. It also said that mobile apps are "increasingly suggested" to promote better doctor-patient engagement. The study aimed to determine the efficacy and accuracy of the hospital's integrated system for home vital sign measurement, triggers when data deviated from ACOG clinical guidelines, and clinical measurements used in prenatal care.
Eight low-risk obstetric patients owning iPhones received an FDA-approved Wi-Fi blood pressure cuff and Wi-Fi weight scale, with the Babyscripts mobile app that integrated the data and provided prenatal educational materials. Patients were asked to record weekly measurements.
"The study showed that pregnant women used the app as directed and that the measurements correlated to those in the doctor's office, affirming the app's effectiveness at home monitoring and compliance among patients," said Anish Sebastian, co-founder of Babyscripts.
Dr. Nihar Ganju, an OBGYN at The George Washington University Medical Faculty Associates and one of the study's authors, noted, "This study demonstrates that not only will patients use technology to self-manage their pregnancies, but that physicians can begin to reap some substantial operational efficiencies if they participate in mobile health."
Babyscripts is a pregnancy technology that can only be obtained through an OBGYN. It is in-tended to extend prenatal care beyond the four walls of the clinic by first delivering evidence-based, OB-approved guidelines in the form of daily nutritional, medical and lifestyle action items through the smartphone.
Key to the Babyscripts experience, is its offering of its "Mommy Kit," a package delivered to an expecting mother's home that includes a wireless weight scale and wireless blood pressure cuff. Regular home use of these devices offers an additional source of information for physicians, as the data is captured and transmitted automatically to the patient and clinic.
By identifying patient trends, it offers physicians the ability to give smarter feedback to patients, potentially optimizing a patient's visit schedule. These benefits reduce costs and help physicians maintain a strong connection with their patients.
On a fast track for growth, Babyscripts recently signed with Duke University, Reiter, Hill, Johnson and Nevin (RHJN), and MedStar Health, a large health system in the Maryland and D.C. area. It is also involved in an ongoing pilot with The George Washington University.
About Babyscripts
Since its founding last year, Babyscripts has received increasing recognition. Recently, Babyscripts won the 1776 regional Challenge Cup competition, a global startup competition that took place in 16 cities across 11 countries to identify the most promising startups solving the biggest challenges in education, energy, health and cities. This victory puts Babyscripts in the Global Finals.
Babyscripts is also a member of the Startup Health Academy and partner of GE's Healthymagination Fund. In addition to on-boarding Duke University and MedStar, it is involved in an ongoing pilot with The George Washington University – Medical Faculty Associates (GW- MFA), focused on leveraging technology to deliver more personalized prenatal care. The company also has produced a series of white papers that have proven the technology's effectiveness in areas of compliance, clinical utility, and financial ROI enhancement. For more
information, visit http://www.getbabyscripts.com.