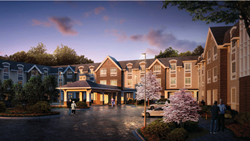 "We are so pleased to see The Ambassador come to fruition. The Ambassador responds to a desire for luxury assisted living where residents can enjoy the lifestyle they're accustomed to, enhanced by excellent services and a community of good neighbors."
Princeton, NJ (PRWEB) May 01, 2015
SA Management, a senior living consulting and management firm based in Princeton, New Jersey, has announced the opening in April of The Ambassador, the eagerly awaited luxury assisted living and memory care community in Scarsdale, New York. The community's 115 residences offer a variety of floor plans from studios to two-bedroom apartments with 95 apartments dedicated to assisted living and 20 for memory care. The Keepsake Neighborhood, a secure on-site memory care program, features a country kitchen with meals served family-style, light-filled activity rooms for specialized programming, and enclosed outdoor gardens.
According to Kristin Ward, President and CEO of SA Management, the community's exquisite interiors, amenities and services will redefine senior living in the Westchester area. The interiors, furnishings and color schemes of The Ambassador were inspired by the Four Seasons Hotels. Painstaking efforts were taken by the owner to achieve a sense of sophistication and elegance while creating a setting that would be warm and inviting for residents and families.
Architecturally, the exterior draws from the residential character of the surrounding Scarsdale area and uses elements of Tudor Revival architecture style. Its seven-acre wooded site, one of the last large parcels in Scarsdale, offered the opportunity to create an estate-like ambiance to capitalize on the site's secluded and peaceful setting. Paved walking paths circle the building providing residents with access to the natural surroundings.
The community is a collaboration between developer Amba P. Sharma, international award-winning architectural firm of Perkins Eastman Architects of Stamford, Connecticut, and Jasper Design of Massachusetts. SA Management provided pre-opening marketing support and will continue to provide management consultation for the community through its lease-up.
"People living at The Ambassador will be able to live the way they are accustomed," Sharma said. "We are offering a level of luxury, services and amenities uncommon to today's assisted living communities. We have included well-appointed community spaces for our residents' and families' enjoyment such as a performing arts center, a movie theater and a children's playroom." Other amenities include a signature restaurant, fine arts studio, full-service beauty salon and spa, and living room and lounge with fireplaces.
According to Ward, The Ambassador will employ over 75 associates in services related to hospitality and wellness including a full time concierge. SA Management will deploy its proprietary customer service training and emphasis on quality service and resident-centered care.
"In addition to luxury living, the focus will be on maintaining and enhancing residents' vitality," said Ward. Wellness programming includes a state-of-the art fitness center with equipment geared to seniors, fully equipped medical offices staffed by visiting physicians, a registered dietician and a specially equipped Mercedes van to take residents to doctor visits.
"We are so pleased to see The Ambassador come to fruition," said Ward. "The Ambassador responds to a desire for luxury assisted living where residents can enjoy the lifestyle they're accustomed to, enhanced by excellent services and a community of good neighbors."
The Ambassador of Scarsdale is located at 9 Saxon Wood Road just off Mamaroneck Avenue, Exit 23 N off the Hutchinson River Parkway and Exit 18 B Mamaroneck Avenue North off I-95. To make an appointment to tour the community, please call 914-428-3782.
About Solutions Advisors and SA Management
Solutions Advisors and its SA Management team draws on the extensive experience of a team that has successfully managed numerous senior living communities across the country. The company has successfully repositioned, performed turnarounds and opened new communities across the country, demonstrating an ability to increase efficiency and generate bottom‐line results. For more information, visit http://www.solutions‐advisors.com or call 888-312-0889.
# # #