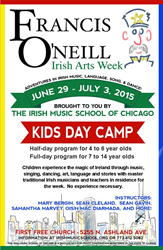 Francis O'Neill Irish Arts Week Kids Day Camp 2015 gives kids the opportunity to learn with Mary Bergin, dubbed the "Queen of the Tin Whistle," and, "Best Tin Whistle Player this Century."
Chicago, IL (PRWEB) April 30, 2015
The Irish Music School of Chicago proudly announces its fifth annual Francis O'Neill Irish Arts Week Kids Day Camp from June 29-July 3, 2015. The week provides a unique learning opportunity by bringing master traditional Irish musicians to Chicago to teach the many facets of traditional Irish arts to children ages 4-14. The Kids Day Camp teaches a wide range of subjects including traditional Irish music, singing, dancing, language and Celtic arts and crafts to children with no experience necessary. The camp takes place at First Free Church at 5255 N. Ashland Ave. in Chicago.
Chicago has a long history with traditional Irish music and the events of Francis O'Neill Irish Arts Week serve to continue that rich heritage. The Francis O'Neill Irish Arts Week further serves to cement Chicago's historic place as a bastion of Irish music. The week pays fitting homage to former Chicago Police Chief, Captain Francis O'Neill, who preserved traditional Irish music for future generations. The week continues that legacy by passing the beauty of traditional Irish arts to the next generation during the Kids Day Camp and also offers evening and weekend programming for adults.
The faculty for the 2015 Francis O'Neill Irish Arts Week includes some of the best traditional Irish music and dance teachers in the world. The faculty and their specialties are Mary Bergin (tin whistle), Seán Cleland (fiddle), Pauline Conneely (tin whistle, tenor banjo), Kathy Cowan (singing in Irish and English), Seán Gavin (tin whistle, Irish flute), Samantha Harvey (piano, piano accordion, Irish dance), Oisín Mac Diarmada (fiddle), Robert McLeod (fiddle, tin whistle), Jackie Moran (bodhrán), Rosemary O'Malley (fiddle, tin whistle).

Half-day camp available for 4-6 year olds ($215)
Full-day camp available for 7-14 year olds ($350)
No musical experience necessary
Registration and additional information are available at http://www.irishmusicschool.org/francis-oneill-irish-arts-week
Additional questions can be directed to info(at)irishmusicschool(dot)org or (773) 412-5082
About the Irish Music School of Chicago
The Irish Music School of Chicago is a leader in teaching traditional Irish music to students of all ages by utilizing the traditional methods of teaching by ear and telling the stories behind the tunes, and the significance of being part of a living musical community. As a not-for-profit organization, the Irish Music School is committed to maintaining the strong tradition of Irish music, song and dance, to involve more people in the community of Irish music, and ensure that this type of music does not disappear in Chicago and the United States.