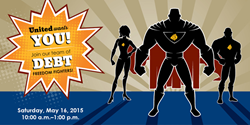 Dayton, OH (PRWEB) April 30, 2015
After an intense year of research and planning, United Theological Seminary, in partnership with Lilly Endowment Inc., is launching its Alumni/ae Ambassador Mentoring Program called "Financial Debt Freedom Fighters." The program is part of United's Financially Fit 2 Lead initiative supported by a $250,000 grant from Lilly Endowment Inc., awarded in December 2013.
A kick-off event on Saturday, May 16, from 10 a.m. to 1 p.m. on United's campus, will provide opportunities for attendees to learn about the impact of financial literacy and financial freedom for clergy and their congregations. Speakers from a variety of stewardship and financial training organizations will present tools and resources for mentoring church relationships.

Persons feeling called to invest in students through mentoring relationships concerning debt management are especially invited.
The event also includes the launch of a new online course to train mentors to journey alongside United students through conversations about financial fitness. The entirely online six-week course, "Financially Fit 2 Lead: Journey Alongside," can be completed on the mentor's own schedule.
The course will equip mentors to develop relationships with theological students and will introduce resources for understanding and working toward financial wellness from a theological perspective. A certificate for 1.0 CEU will be awarded at the course's completion.
Click here to learn more about the kick-off event and the course.
Lilly Endowment Inc. is an Indianapolis-based private philanthropic foundation created in 1937 by three members of the Lilly family — J.K. Lilly Sr. and sons JK, Jr. and Eli — through gifts of stock in their pharmaceutical business, Eli Lilly & Company. The Endowment exists to support the causes of religion, education and community development. Lilly Endowment's religion grantmaking is designed to deepen and enrich the religious lives of American Christians. It does this largely through initiatives to enhance and sustain the quality of ministry in American congregations and parishes.
United Theological Seminary, now in its 144th year, is one of the fastest growing theological schools in the United States. It was founded in 1871 by Milton Wright, a Bishop in The United Brethren Church and father of Wilbur, Orville and Katherine Wright. United offers accredited, innovative graduate and non-degree education programs for both clergy and laity. Please visit http://www.united.edu to learn more about United.