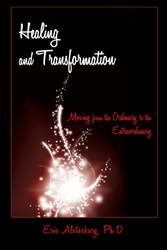 (PRWEB) May 05, 2015
"There are some astonishing truths we need to accept. First of all, there is the ultimate truth that we are all spiritual beings having a human experience," according to the author.
In his revolutionary book "Healing and Transformation: Moving from the Ordinary to the Extraordinary," Dr. Eric Alsterberg explores the challenges and adversities commonly faced in life, which can be viewed as opportunities that challenge people to evolve physically, mentally, emotionally and spiritually. Dr. Alsterberg explains that his "how-to manual will inspire readers to recognize and understand the voice of the Higher Being speaking to us all. Learn how to heal old emotional wounds and traumas, move away from dysfunctional patterns, and thereby return to a spiritual path."
Transform one's life. Connect to God. "Healing and Transformation: Moving from the Ordinary to the Extraordinary" will show the way.
Watch the video at: http://www.youtube.com/watch?v=V6SQ5vd3nIc
About the Author: Dr. Eric Alsterberg is a writer, psychologist and certified hypnotherapist. He is actively involved in spiritual teachings and mentoring others through his expertise in metaphysics. He is a member of the Association for Research and Enlightenment (the Edgar Cayce Foundation), the Astara Mystery School, and the Reconnection, Eric Pearl healing technologies. He lives in Michigan.
HEALING AND TRANSFORMATION: MOVING FROM THE ORDINARY TO THE EXTRAORDINARY (ePub ISBN: 978-1-61204-961-8) is available for $9.99 at
http://epubco.com/shop/products/healing-and-transformation/ or Amazon.com and BarnesandNoble.com and in multi-formats for other e-Readers through numerous vendors online.
The soft cover version (ISBN: 978-1-63135-610-0, $23.50) can also be ordered through the publisher's website: http://sbpra.com/EricAlsterberg/ or at Amazon.com or BarnesandNoble.com.
WHOLESALERS: This book is distributed by Ingram Books and other wholesale distributors. Contact your representative with the ISBN for purchase. Wholesale purchase for retailers, universities, libraries, and other organizations is also available through the publisher; please email bookorder(at)sbpra(dot)net.