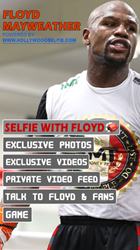 (PRWEB) May 01, 2015
Floyd Mayweather fans can finally have that million dollar picture standing right next to the champ. HollywoodSelfie is the hottest new app with exclusive pictures of Floyd Mayweather.
Simply choose a picture of Floyd Mayweather from our library of photos, take a selfie standing next to Floyd and HollywoodSelfie works its magic and merges the two pictures together. Easily share this picture with your friends via all major social networks. In addition, exclusive behind the scenes pictures and videos and live chat are available to interact with other fans or directly with The Money Team.
HollywoodSelfie: Floyd Mayweather was submitted to Apple iTunes last week and pending their backlog, the app will be live any day now. Please also visit http://www.HollywoodSelfie.com for more details.