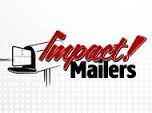 The Impact Mailer is a proven marketing tool and we are extremely excited about introducing it to the martial arts industry
Atlanta, GA (PRWEB) April 30, 2015
Building on their expertise in providing direct mail marketing solutions for Gyms and Fitness Clubs, Impact Mailers has expanded their product offerings to include the Martial Arts industry. They will be showcasing their direct mail product, The Impact Mailer, at the upcoming Martial Arts Supershow in July.
The Impact Mailer is a durable, credit card-thick (30 mil) plastic postcard and a solution for martial arts studios looking to expand their student base through direct mail. The Impact Mailer cuts through mailbox clutter with a high gloss plastic finish and breakaway cards and key tags. The plastic credit card feel and thickness has an immediate perceived cash value to the consumer and gets noticed in a crowded mailbox full of conventional paper mailers, catalogs and coupons. Breakaway cards and key tags allow the studio owner a wide range of possibilities to utilize the mailer for new student acquisition, gift cards, student referral cards, specialized training promotions, etc.
The durable plastic construction contributes to an increased shelf life, allowing longer expiration dates and extending the reach of each piece. Variable data capabilities enable full personalization of each mailer to the household, with customer-specific messaging and offers. Barcoding and online activation make tracking response easier than ever. The Impact Mailer can be utilized as both a loyalty program to existing students as well as an acquisition tool to grow a studio's customer base. Households surrounding the location are targeted based on demographics and geography that best match the existing student profile. Current students can be suppressed from the mailing, creating the perfect acquisition piece. Impact Mailers provides full, turn-key service to the studio owner with graphic design, targeting, printing and mailing services.
About Impact Mailers:
Impact Mailers, LLC is a full service direct mail advertising agency. Their team of sales, design and production professionals have a combined experience of more than 75 years in the direct mail advertising industry. "Our plastic direct mail products have proven so successful in the fitness industry that expanding to martial arts only made sense. Studio owners and gym owners share many of the same challenges and strategies in marketing their facilities. We look forward to putting our expertise to work in helping martial arts studios achieve similar levels of success in attracting new students that our fitness clients have seen in attracting new members. The Impact Mailer is a proven marketing tool and we are extremely excited about introducing it to the martial arts industry," adds Patrick Casey (Vice-President of Marketing). To learn more about Impact Mailers visit their site by clicking on the following link:Fitness Marketing
Submitted by Click Ready Marketing of Georgia.