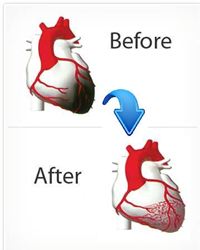 It is great to provide hope to improve patients heart health with this evidence-based treatment, ECP
Calgary, AB (PRWEB) May 28, 2015
External Counterpulsation (EECP/ECP) has been used extensively all over the world and all over the United States. There are a growing number of people with advanced stages of heart disease, who can experience symptoms of angina and these patients are often times not amenable to cardiac medications, heart stents and/or bypass surgery.
"No option" patients are a sizable cohort of population with angina due to coronary artery disease that is considered unacceptable for heart stent or bypass. The Heart Fit Clinic in Calgary, are now able to provide an option for what cardiologist call "no option" patients. "It is great to provide hope to improve patients heart health with this evidence-based treatment, ECP" says Diamond Fernandes, Clinic Director or the Heart Fit Clinic.
External Counterpulsation is an outpatient therapy at the Heart Fit Clinic that mechanically increases blood flow to improve chest pain symptoms and quality of life. While undergoing External Counterpulsation (ECP/EECP), the patient lies on a comfortable table and is strapped with treatment cuffs that inflate along the legs from the calves to the thighs and buttocks. This external pulsation helps to increase blood supply to the heart muscle and decrease the amount of work it has to do. Throughout the procedure, heart rate and rhythm are monitored to make sure the patient is responding well.
The Heart Fit Clinic in Calgary have been showing great improvements in patient's symptoms and look forward to providing hope for this population who have advanced stages of coronary artery disease.
For more information please visit the Heart Fit Clinic.