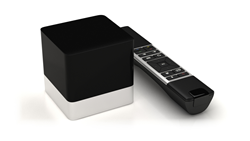 Calgary AB (PRWEB) May 01, 2015
With a variety of media streaming devices hitting the market, representatives with Western Leaf Electronics (http://wleaf.com) say their Frenzy Streaming Cube is unlike anything else out there.
"Our Frenzy Streaming Cube is an android powered device that has great horse power and is packed with content that's ready to give the user a great experience," said Mark Ataya, CEO of Western Leaf. "The thing that makes this different from everything else on the market is the setup is easy, it has a compact design, has pricing to fit everyone's budget, and is a remote control that comes equipped with a headphone plug. This allows users to use voice commands for an easy browsing experience."
Geared toward retailers, distributors, and multimedia users, Ataya explained that the Frenzy Streaming Cube is priced between $89 and $129.
In addition to the company's new Frenzy Streaming Cube, Ataya pointed out the new product goes hand-in-hand with Western Leaf Electronics' Frenzy TV Hub, which runs using its award winning Frenzy Controller, a device that's designed to perfectly fit in the palm of the hand and allows the user to control their Android devices using gestures (touch, long press, swipe, drag, double touch, pinch and other touch gestures) and gravity motion sensors (that allow users to control the pointer on the screen).
"It has no buttons to click, and each gesture is crafted to be as natural and instinctive as possible based on direct user input," Ataya stressed, before adding that Frenzy Controller is the first visceral product in the market to combine both gravity and gestured based controls together for a more seamless experience.
"As you can see, we have great products that compliment one another, and our newest product not only compliments all of our previously released products, but it also compliments the wants and needs of our customers," Ataya said. "We invite everyone to explore the Frenzy Streaming Cube. We promise that users will absolutely love it."
For more information, please visit: http://www.wleaf.com.