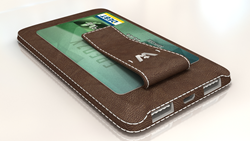 Calgary, AB (PRWEB) May 01, 2015
Representatives with Western Leaf Electronics (http://wleaf.com) announced today that the company has added a new line of portable extended battery power called Power Banks.
"Our new product line of portable extended battery power (Power Banks), are specifically designed to fit our day-to-day life style," said Mark Ataya, ceo and spokesman for Western Leaf Electronics.
Ataya explained that its Power Banks sport a slim design, they are portable, and holds an extended amount of power.
"They are crafted with leather to add more fashion and style," Ataya stressed, before adding, "Our Power Banks also will include compartments and a money clip to hold cards and cash so you don't have to carry too many things at once."
The company spokesman went on to point out that Western Leaf Electronics new line of portable extended battery power meets the growing consumer demand.
"These days, user run out of power quickly without having a chance to quickly and conveniently recharge without interrupting their normal routine," Ataya noted. "Our products will be stylish, portable and are designed with a clear purpose while ensuring that users have a backup power ready to use at any time."
Geared toward retailers and end users, Ataya described its Power Banks as being smart and accurate.
"Most products in the market they don't deliver on their promises," Ataya said. "For example, ideally a Power Bank that is 5000 mAh (milliampere-hour) should charge your phone (that has a battery of 2500) twice, but in most cases, it barley charges one time. Our technology, however, will charge much better than these products."
For more information, please visit: http://www.wleaf.com.