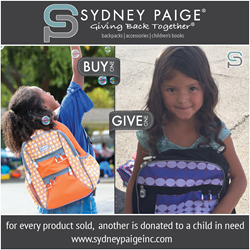 Partnering with non-profit organizations is our favorite way to carry out our mission of helping children in need learn and thrive in school.
Moraga, CA (PRWEB) May 04, 2015
Calling all backpack drives! There is an exciting new way to help your drive be a success without any incremental cost to you or your supporters. If you team up with Sydney Paige®, you can guide supporters to your very own landing page where they can purchase a Sydney Paige® backpack for themselves or a loved one and the exact matching backpack will be filled with school supplies and donated to your drive. All your supporters have to do is note your organization at checkout. They can even donate both the 'buy' and the 'give' backpacks if they type 'Donate Both' in the notes section.
Why partner with Sydney Paige®? The company's buy/give model addresses the top reasons supporters tell non-profits that they are not able to support their drives.  They cite that (1) they don't have the time; (2) they don't have the money to help as they've just purchased backpacks and supplies for their own kids; or (3) they are hesitant to give a monetary donation because they don't trust that the money will all go to the kids.
The cost of an inexpensive backpack (with quality being a big question mark) runs $20-$30 and the school supplies are anywhere from $40-$60.  For many, a $60-$90 price tag is a bit too steep of an ask, not to mention the time it takes to shop and donate one. Sydney Paige® backpacks are high quality and competitively priced from $40-$80. The Company's Founder and CEO, Courtney Brockmeyer, states, "With our backpacks, parents can feel great knowing that their child's backpack will last the school year, and feel even better about the direct impact they are having on children in need. What a great way to teach your child(ren) about giving back!"
How did this all come about?  Wanting underserved children to start the school year off with the confidence and tools needed to succeed, Brockmeyer asked herself, "What if backpack drive supporters didn't have to pay any incremental costs to give these kids a high quality backpack they can be proud of and all of the school supplies they need to be able to do their work?" From there, she created a business plan that could deliver on all points and one that is bringing strong support to backpack drives across the country.
Director of Sales, Tenaya Garrett, added that "Partnering with non-profit organizations is our favorite way to carry out our mission of helping children in need learn and thrive in school. Alone we can only do so much, but together, the opportunities are endless."
For more information on how your organization can team up with Sydney Paige, email info@sydneypaigeinc or call 844-GVN-BACK.
------------------------------------------------------------------------
About Sydney Paige®, Inc. (http://www.sydneypaigeinc.com)
Sydney Paige® Inc. is a buy one, give one company where for every product sold, a matching product is donated to a child in need. They sell quality backpacks, accessories and children's books with a focus on education as self-empowerment for a better future. With their products and their 'Giving Back Together®' movement, Sydney Paige Inc. addresses the top reasons for drop out, which are the lack of confidence and lack of tools for students to do their work. Sydney Paige products are sold online, through retailers and via fundraisers. Sydney Paige Inc. is certified as a women's business enterprise by the Women's Business Enterprise National Council (WBENC).