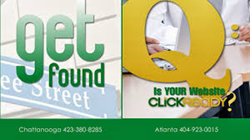 three-ism view of marketing helps shed insights on how a business should think more like a PR company than just a sales agency
(PRWEB) April 30, 2015
Click Ready Marketing is an Atlanta Internet Marketing Agency that has developed a new theology on improving a company's brand identity and hopefully revenues using three words. "The new way of marketing challenges a client to choose three words that best describe who they are as a company and what makes them different. Then the question is asked, are these words being portrayed in their website, social media platforms, press releases, and other company literature? What words would a first time site visitors use to describe the business. If the business owner and staff three words are very different, then they may have a challenge with their branding and messaging," says Craig Lawson (President of Click Ready Marketing). "This three-ism view of marketing helps shed insights on how a business should think more like a PR company than just a sales agency," Lawson states.
"In most cases, small and mid-size businesses have issues conveying who they are and what makes them different as a business especially when trying to send out the right message to attract new customers. The process of three-ism is effective in part because it is a simple process. Business that uses three-ism methodology may even learn more about their key identifiers by using this exercise. Three-ism begins the logical thinking process about understanding your business and simultaneously understanding how prospects currently views your business," adds Lawson.
Click Ready Marketing is a mid-size agency that currently has about 65 clients. They also have a unique industry commitment of not taking on direct competitors of their clients as long as customer has a business relationship with CRM. The three words they use to describe their business is innovative, transparent, and loyal.
If you would like to learn more about Click Ready Marketing or how three-ism marketing could benefit your company or organization, just follow the link: three-ism.