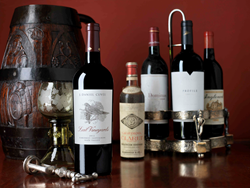 "We are one of the only wineries in Napa offering a futures program which we will only extend in the very best vintage years." --Robin Lail
Napa Valley, CA (PRWEB) May 04, 2015
As the popularity of rare and hard-to-find wine increases, so does the importance of securing allocations of coveted wine, as does the smart sense to purchase "futures" of those well-loved bottles.
Wine "futures," which are wines made available by the producer to purchase while still in the barrel (often months before bottling,) are a specialty of the Bordeaux region of France, but are becoming increasingly popular in California. Auction Napa Valley's world-famous barrel tasting -- coming up on June 5th --provides guests an opportunity to purchase one-case lots. There, hundreds of guests try their hand at guessing which of the several barrels of young wine will one day mature into luscious, leggy cabernets by placing large and often expensive bids on cases.
For Robin Lail, one of the founders of the Napa Valley Auction and proprietor at Lail Vineyards, an offering of their prized 2013 J. Daniel Cuvée Cabernet Sauvignon allows customers to a chance to buy this often impossible-to-find wine a year and a half before its regular release. And, in this case, the wine has already received accolades from Robert Parker including a near perfect distinction.
According to Robin Lail, "We are one of the only wineries in Napa offering a futures program which we will only extend in the very best vintage years. We are thrilled about the amazing blessing of having three great vintages in a row: 2012, 2013, and 2014. Our idea is to provide people an early chance to secure an order of the 2013 J. Daniel Cuvée, as we only produced under 1,000 cases." The 2012 vintage sold out in 48 hours after it received a perfect 100 point review.
Lail Vineyards was founded 20 years ago by Robin Lail, a native of the Napa Valley and fourth generation vintner, whose great-granduncle, Gustav Niebaum founded Inglenook. For more information please go to http://www.lailvineyards.com or contact Lail Vineyards: 707-968-9900.