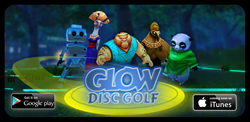 San Francisco, California (PRWEB) May 01, 2015
Glow Disc Golf is now available for Google Android devices free to play. The game lets you start off by choosing single player or turn based multiplayer and then choose a course to play glow disc golf.
Glow Disc Golf is a real sport where players light up discs and disc golf targets using LED lights and compete for lowest score amongst players. Its not often disc golfers can play at night in public disc golf parks. Tribaloid has designed and developed a disc golf video game where you don't have to get into trouble for playing disc golf at night.
Gesture controls in Glow Disc Golf are unique to other Tribaloid Disc Golf video game such as Bag Tag Challenge or Around the Rock Disc Golf or any game for that matter. Hold down finger on disc and glide your finger around to raise or lower power and tilt the disc for hyzer, when ready simply release finger from disc to throw at target.