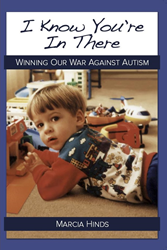 ...a parent has the absolute fundamental liberty interest and constitutional right to have the final voice in choosing the course of medical treatment for his/her child.
Los Angeles, CA (PRWEB) May 04, 2015
Fast on the heels of Autism Awareness Month, Marcia Hinds, Eric Gladen's documentary Trace Amounts, and Allison Folmar, JD, join over 150 speakers in the most comprehensive annual autism conference held internationally.
On Sunday, May 24, the conference presents "I Know You're In There: Is recovery from autism possible?" Are you interested in Ryan Hinds' recovery story? The book I Know You're In There: winning our war against autism was written by Marcia Hinds, Ryan's mom. Ryan is now an engineer at a major aerospace company. He does all the things the experts said could never happen. Anyone who meets him would never know he was once severely affected. This is the same kid who had to be taught how to smile. Ryan's story means that there's hope for other children significantly impacted by an autism diagnostic label and symptoms. Come hear the lecture and meet this parent who helped make her child's recovery from autism possible.
On Saturday, May 23, the conference screens the renowned documentary Trace Amounts. During the past 20 years, the frequency of autism occurring in children has skyrocketed from 1 in 10,000 to 1 in 68, and the scientific community is no closer to determining a cause. Trace Amounts is the true story of Eric Gladen's painful journey through mercury poisoning that he believes resulted from a thimerosal-loaded tetanus shot. His discoveries led him on a quest for the scientific truth about the role of mercury poisoning in the autism epidemic. From the Mad Hatter Syndrome in the late 1800s, to Pink Disease in the first half of the 20th, to the Iraqi Grain Incident in the early 1970s, humans have learned time and again of the debilitating neurological and physical damage that mercury can cause. Then why and how did it end up in our childhood vaccines?
On Friday, May 22, the conference presents Allison Folmar, JD, with her session titled "Being Prepared for the Legal Fight!" Attorney Allison Folmar is a civil rights attorney who passionately fought numerous charges brought against her client, Michigan mother Maryanne Godboldo. Maryanne refused to give up her daughter to State authorities when they attempted to force a harmful anti-psychotic drug upon her child who exhibited autistic-like symptoms immediately after vaccinations. The case garnered international attention as Attorney Folmar fought for Maryanne's right to choose the course of medical treatment for her daughter and fiercely challenged the State's medical kidnapping of Ariana. Attorney Folmar won a 10-month legal battle against the Michigan Attorney General and State Prosecutors on the sole premise that a parent has the absolute fundamental liberty interest and constitutional right to have the final voice in choosing the course of medical treatment for his/her child. Folmar's zealous advocacy changed state law in Michigan that makes it now illegal for CPS to intervene when a parent chooses not to administer certain mind-altering drugs to his/her child. Attorney Folmar has assisted in writing federal legislation to protect parents' rights and has likewise won similar cases across the country. This workshop will highlight various aspects of parental rights including, but not limited to, federal laws, state laws, healthcare rights, patient rights, and civil rights. Counsel will emphasize issues regarding the dangers of psychotropic medications and the parents' right to refuse these drugs. These psychotropic drugs are not approved for autism and their use should not precede medical investigation. This session will discuss emergency room/hospital admission, knowing your rights, being prepared with medical history and tips to prevent CPS involvement.
Allison Folmar, JD, will also join Dr. Brian Hooker at his Saturday, May 23 panel titled "Debunked!" Dr. Hooker will discuss his efforts to reanalyze CDC datasets associated with the Destefano et al. 2004 (MMR-autism), Thompson et al. 2007 (thimerosal-neurological deficits) and Price et al. 2010 (thimerosal-autism) studies. In addition, he will discuss a culture of fear at the CDC that has led to suppression of science showing a link between autism and vaccines/vaccine components. This will include his relationship with the CDC whistleblower as well as many other sources of information. A panel will follow Dr. Hooker's discussion with two mothers of ASD sons, Rosemary Williams and Candy Robles, who will comment on their feelings about obfuscation of information in the 2004 paper as illuminated by Dr. Hooker's 2014 reanalysis paper, and Allison Folmar, JD.
With over 150 speakers covering the topics of biomedical research and treatment, education, adjunct therapies, advocacy, and more, whether you're starting, seasoned, or savvy, the AutismOne/Focus for Health 2015 Conference has something for you. The AutismOne/Focus for Health 2015 Conference will be held at the beautiful Loews Chicago O'Hare Hotel (5300 N. River Road, Rosemont, IL 60018) from May 20-24. Register at http://www.autismone.org, or call 1.800.908.5803 for more information.