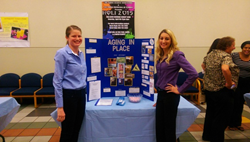 Ft. Lauderdale, FL (PRWEB) May 01, 2015
Keiser University (KU) students in the Occupational Therapy Assistant (OTA) program, from campuses in the tri-county area, attended the Occupational Therapy Annual Research and Community Project Symposium held at Nova Southeastern University. Sponsored by the South Florida OT Forum, all major universities participated with students presenting their latest research projects. This year was the first time the KU OTA program participated.
Students from campuses in Fort Lauderdale, Miami, and West Palm Beach presented their community projects, which had been developed as part of the Aging and Performance course. The OTA student's projects that earned first places at each campus were then selected to present at the OT Research Symposium.
"The event had over 200 people in attendance including students, faculty and clinicians so this was a tremendous learning experience for the OTA students," said Dr. Arthur Keiser, Chancellor and CEO.
The OTA students in their final academic semester completed a poster presentation for the Aging course. The students were asked, as part of a class activity, to interview a well-elder living in the community and perform a quality of life questionnaire and a home safety checklist. These assessments would help determine if the elders were at risk of any preventable health risks. By identifying lifestyle balance issues and any obstacles that interfere with wellness or aging in place, these OTA students helped elders in the community live healthier and safer lives.
Students completed a poster board presentation held in the Fort Lauderdale campus auditorium. All Allied Health programs were invited to attend the presentation and attendees were encouraged to vote for the strongest presentation. This is all taking place during the month of April because it is Occupational Therapy Month and this year's theme is "Living Life to its Fullest".
About Keiser University:
Keiser University is a private, not-for-profit University serving nearly 20,000 students offering 100 degrees at the doctoral through associate level on 17 Florida campuses, online and internationally, employing 3,500 staff and faculty. Keiser University holds Level VI accreditation signifying recognition of its expanded doctoral degree offerings.
Sixty-two percent of KU students graduate in STEM (Science, Technology, Engineering and Math) and healthcare fields, providing the talented workforce necessary for Florida to compete globally. Statewide Keiser University campuses currently have 60 accredited programs, spanning 21 program offerings, from 18 accrediting agencies/regulatory agencies to ensure that the top industry standards are met in degrees such as nursing, occupational therapy assistant, radiologic technology, physical therapy assistant, physician's assistant, and many others.
Keiser University is accredited by the Southern Association of Colleges and Schools Commission on Colleges to award certificates and degrees at the associate, baccalaureate, masters, specialist, and doctoral levels. Contact the Commission on Colleges at 1866 Southern Lane, Decatur, Georgia 30033-4097 or call 404-679-4500 for questions about the accreditation of Keiser University.
For additional information regarding Keiser University OTA PRogram, go to http://www.keiseruniversity.edu/occupational-therapy-assistant-as/