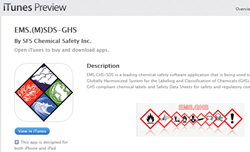 World's most Innovative Environmental Management Software for the world's most innovative car company
San Francisco, CA (PRWEB) May 04, 2015
Bay Area based SFS Chemical Safety, Inc. announced today that Tesla Motors has selected its flagship mobile and cloud-based Environmental Health and Safety (EHS) software, Environmental Management Systems (EMS), to manage its chemical inventory tracking and waste disposal activities.
"Tesla makes the world's most innovative and environmentally friendly cars," said Tony Diamantidis, Executive Vice President of Chemical Safety. "Chemical Safety's EMS product represents the leading edge in mobile and software-as-a-Service (SaaS) environmental health and safety technology. Rapid deployment of our EMS software will have Tesla operational in days, not months. This is a great fit for environmentally progressive companies and Tesla is leading the pack in this area."
SFS Chemical Safety is an industry pioneer that has been implementing enterprise class EHS software for over 25 years. It introduced its next generation cloud-based EH&S software in 2014 as a comprehensive solution to address chemical inventory tracking, hazardous waste management, environmental regulatory compliance and reporting. EMS is complemented by a series of free mobile solutions for iPads, iPhones, and Android tablets that incorporate barcode technology to efficiently track hazardous materials.
"Some of the world's largest segment leading organizations in manufacturing, research and education rely on Chemical Safety's EMS product to efficiently and cost-effectively manage chemical safety and compliance," said Maggie O'Donnell, Chemical Safety's President. These organizations include SRI International, the US Department of Energy, the US Navy, NASA, the US EPA, Stanford University, L'Oréal, Gilead Sciences and now Tesla, who's CEO Elon Musk, is arguably one of the world's greatest visionaries. It's a privilege to work side-by-side with Tesla, one of the world's most innovative companies."
About SFS Chemical Safety, Inc.
SFS Chemical Safety, Inc. (Chemical Safety Software) is a San Francisco Bay Area based technology company founded in 1988 with offices in the US, Europe and Asia. Its first release of the Environmental Management Systems (EMS) software was developed in partnership with the University of California, Berkeley, and the Department of Energy's Lawrence Berkeley National Laboratory (LBNL).
For more information, please visit http://www.chemicalsafety.com or click here to see a video of Chemical Safety's technology solutions.
Contact
To learn more about SFS Chemical Safety and the Tesla Mobile and SaaS Cloud-Based EMS project please contact:
Tony Diamantidis, Executive Vice President
SFS Chemical Safety, Inc.
+1 510 594-2020
tonyd(at)chemicalsafety(dot)com
http://www.linkedin.com/in/tonydiamantidis