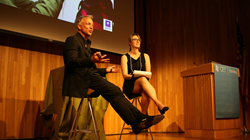 Unlike traditional investors, we're not looking for quick profits. Our mission is to find the next generation of innovators and help them build great companies that will alter the future in profoundly positive ways."
San Francisco, CA (PRWEB) May 01, 2015
FOUNDER.org, the global investor and company building program for student entrepreneurs, announced today 25 new university partnerships and an expanded grant funding program for student entrepreneurs. To provide time for students from the new Partner Schools to submit their presentations, the Class of 2016 application deadline has been extended two weeks until May 15, 2015.
FOUNDER.org's company building program is for student innovators solving big problems. The one year program combines cutting edge education across eight critical dimensions for building a high growth company with executive mentoring and early stage funding. This year, students from Partner Schools are invited to apply for the FOUNDER.org Class of 2016 program which will kick off at The World Founder Forum in Stockholm, June 16, 2015.
21 new Partner Schools have joined FOUNDER.org this year, bringing the total to 45 leading universities across the United States and Europe. New Partner Schools include Aalto University, Columbia University, Cornell University, École Centrale Paris, EPFL, ETH Zurich, HEC, INSEAD, Kaunas Technical University, Northwestern, Oxford University, Tallinn Technical University, Tuffs University, UCLA, UCSB, University of Applied Science Munich, University of Illinois Urbana Champaign and University of Zurich.
"We are excited to work with FOUNDER.org to support our entrepreneurs here at Oxford. Their program really has the student mindset at heart. They go above and beyond to express this through their mentors, network and curriculum," says James May, President of Oxford Entrepreneurs.
Peter Chortle from the entrepreneurship program at Cornell adds, "Entrepreneurship at Cornell is happy to partner with FOUNDER.org to bring this valuable resource to our student innovators. Our entrepreneurs have expressed how impressed they were in engaging with FOUNDER.org and its content."
In addition to expanding the number of Partner Schools, FOUNDER.org is also expanding its early stage funding grants. This year every team admitted into the annual FOUNDER.org Class will receive a funding grant of $10,000 to $100,000. Up to 50 teams are accepted into each annual FOUNDER.org Class.
"Last year, we reviewed over 1000 applications and attended more than 300 live presentations" said Michael Baum, CEO of FOUNDER.org. "Our goal is to find the true student innovators working to solve big problems." In the past this has included innovations in 3D technology, aeroponics, digital health, drones, smart sensors, robotics, environmental solutions, medical devices, electric vehicles and an array of other innovative technologies.
"We focus on big ideas, nothing is out of question. Unlike traditional investors, we're not looking for quick profits. Our mission is to find the next generation of innovators and help them build great companies that will alter the future in profoundly positive ways."
"Students from our new partner schools are just now finding out about the program so we we're extending the application deadline to May 15, 2015."
Students will now be able to apply up until May 15th. To apply go to http://www.founder.org/apply.
As part of the 2016 expansion plans, FOUNDER.org is also providing grant funding to every company that gets accepted into the program. This year, each member of the entering 2016 class will receive $10K to $100K in seed grant money. Additionally, an investment fund is available to provide $250K - $5M in further capital.
The FOUNDER.org annual program is based on 8D©, the company building science created by FOUNDER.org. Each of the 8 dimensions is critical to the success of high growth ventures. 8D provides a framework that significantly improves the odds that young companies thrive not just survive. Throughout the year, teams face 30 different challenges, receive executive mentoring and participate in quarterly in person forums with the rest of the FOUNDER.org class.
About FOUNDER.org
FOUNDER.org is an investor and company-building program for student entrepreneurs at leading universities around the world. The intense 8D© Company Building Program introduces young entrepreneurs to the Silicon Valley way of building a high impact company. The hands-on transformative experience is designed to increase the odds of survival and to help young entrepreneurs grow their companies faster and take them further, creating truly impactful ventures. FOUNDER.org provides the funding teams need to get started, investing directly in student startups from partner schools in seven different countries. FOUNDER.org was founded by a team of serial Silicon Valley entrepreneurs who have built billion dollar companies and are now working with the next generation of creative, audacious student founders to positively transform the world around us.
Learn more at http://www.founder.org.