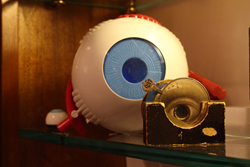 "This year's programme reflects so much of what the School of Arts is known for"
London (PRWEB UK) 4 May 2015
Curiosity, phantasmagoria and the 18th century come together in a series of fascinating free-to-attend public events at this year's Birkbeck Arts week.
The six-day festival at Birkbeck, University of London, runs from Monday 18 to Saturday 23 May.
The annual springtime showcase consists of a packed programme of more than 40 events, including lectures, performances, screenings, workshops and discussions. It features contributions from Birkbeck's own academics and guest artists and scholars from all over the world. All events are free to attend, and are open to anyone with an interest in arts and culture.
Programme highlights
Highlights of the Birkbeck Arts Week programme for 2015 include:

(Mon 18 May, 2pm-5pm, Birkbeck Cinema, 43 Gordon Square)
What is 'curiosity'? Why are we captivated by it and what does is mean in the realms of art, myth, museums, literature and film? This interdisciplinary symposium takes a look at all aspects of curiosity, as discussed by speakers Dr Brian Dillon, Professors Laura Mulvey and Marina Warner and Dr Fiona Candlin.
Found in Translation – The Man Booker International Prize
(Mon 18 May, 7.15pm–9pm, Keynes Library, 46 Gordon Square)
On the evening before the prestigious accolade is announced, join some of this year's finalists as they discuss the impact of translation and read from their novels in English and the original.
The Man Booker International Prize, whose judges are chaired this year by Birkbeck's Professor Marina Warner, rewards an author for an achievement in fiction. The three finalists attending the Arts Week event are Mia Couto (Mozambique), Alain Mabanckou (Congo) and Marlene van Niekerk (South Africa).
Realities of Precariousness
(Mon 18 – Wed 20 May, Birkbeck Cinema)
Pushing the boundaries between fiction and documentary, the realities of precariousness in Latin America are delved into in this quartet of contemporary film screenings from Brazil and Colombia. Includes discussions and Q&A sessions with curators and filmmakers after the screenings.
(Wed May 20, 6pm – 8pm, Room G04, 43 Gordon Square)
A panel of photographers and historians of the medium discuss a series of dramatic and evocative images of London from throughout the decades. Among the images to be delved into are Herbert Mason's 'St Paul's' (29 December 1940); Bert Hardy's 'Life in the Elephant', (Picture Post, January 1949); and Thomas Struth's 'Clinton Road' (1977).
Blake's Dream: Vala or the Four Zoas
(Wed 20 May, 6.30pm –8:30pm, Room G10, 43 Gordon Square)
Students of Birkbeck's Master of Fine Arts degree in Theatre Directing will give two performances of a captivating 30 minute piece exploring Night II of Blake's prophetic illuminated manuscript 'Vala or the Death of Judgement of the Ancient Man: A Dream of Nine Nights'.
In Night II Blake's 'visionary forms dramatic' take their motions from Albion's couch of death. For part of the performance, audience members will be blindfolded.
The evening's performances will be followed by an open discussion with the company and Blake scholar Dr. Luisa Cale (Birkbeck).
(Thurs 21 May, 6pm-8pm, Birkbeck Cinema)
Tales from the making of Mike Leigh's recent award-winning film, Mr Turner, are brought to life by a team of professionals from behind the scenes of the film. Among the speakers include Birkbeck alumni Dr Jacqueline Riding (historical consultant) and Sarah McBryde (production manager). Tim Wright, who taught Timothy Spall to paint, will also discuss the film and its representation of the great artist.
Séance and Seanceability: Magic Lantern
(Fri 22 May, 7.30pm – 9pm, Birkbeck Cinema)
Magic lantern showman and historian, Dr Mervyn Heard gives a spirited account of the phantasmagoria – a Gothic and ghostly form of theatre using projection which springs out of the 19th century
Birkbeck Arts Week will be primarily hosted in and around 43-47 Gordon Square – once home to several members of the Bloomsbury set and now home to Birkbeck's School of Arts.
Professor Hilary Fraser, Dean of Arts, said that this year's Arts Week "celebrates the imaginative realisation of the past in the contemporary arts" while also deftly "showcasing the exciting research and teaching profile of the school".
She said: "We very much look forward to welcoming members of the public, plus academic and cultural sectors to enjoy this wonderful array of events.
"This year's programme reflects so much of what the School of Arts is known for: its internationalism; its mission to bring the best of contemporary culture to a wide audience; and its sense of the cultural histories and geographies of the present."
To see the full programme of Birkbeck Arts Week, which runs from May 18 to 23, visit http://www.bbk.ac.uk/artsweek. While attendance at all events is free, booking is essential.
For media enquiries, including access to high resolution imagery, please contact Andrew Youngson, media and publicity officer at Birkbeck, University of London on 07921 587530 or a(dot)youngson(at)bbk(dot)ac(dot)uk