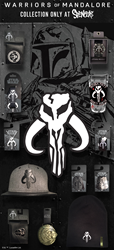 Egg Harbor Township, NJ (PRWEB) May 04, 2015
Spencer's Gifts LLC, the nation's leading specialty retailer of lifestyle and licensed accessories, unveiled their newest fandom initiative today. Warriors of Mandalore, a unique collection inspired by the popular Star Wars character Boba Fett, is available in stores and online now, aligning with "May the 4th" fan festivities.
"If you often find yourself late for meetings in Keldabe, missing your wallet while delivering bounties on Tatooine, or under-accessorized after the fall of the Empire, our new 'Warriors of Mandalore' collection is for you," said Eric Rellosa, Head of Merchandise for Spencer's. "Spencer's understands that just because you're always in battle armor doesn't mean you can't be stylish underneath."
Warriors of Mandalore is a collection that captures the spirit of Boba Fett, one of the most celebrated characters in the Star Wars universe. The limited release, which includes wallets, hats, necklaces, key chains and more, encompasses a monochromatic color scheme and are emblazoned with the iconic symbol of Mandalore. The first of its kind for Spencer's, Warriors of Mandalore will pave the way for future Star Wars accessory collections throughout the year.
With more than 670 mall destinations across the U.S. and Canada, Spencer's is committed to offering the most expansive assortment of top pop-culture licenses for individuals to express their fandom. Many of their unique products are available only from Spencer's, known for its licensed merchandise from DC Comics superheroes and villains, "The Walking Dead," Teenage Mutant Ninja Turtles, "The Nightmare Before Christmas," and Zelda, among countless others.
About Spencer's
The mall destination for entertainment, excitement, and fun, Spencer's has been selling unique and edgy lifestyle accessories for more than 65 years. Founded in 1947 as a mail order catalog in Pennsylvania, the company opened its first brick and mortar store in 1963 and has since grown to more than 670 locations. Winner of Chain Store Age's "Storefront of the Year," Spencer's sells T-shirts, accessories, jewelry, and drinkware, among other products, all with a unique twist.
Channeling a similar energy is Spencer's philanthropic efforts, Boobies Make Me Smile. Founded in 2008, this non-profit organization focuses on creating awareness and directly supporting the efforts of its young adult-focused partners with 100% of all donations raised.
For more information, please visit: http://www.SpencersOnline.com.