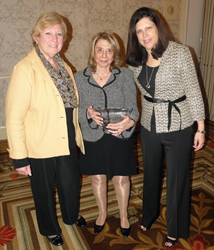 I truly appreciate this distinction from the Connecticut Council of Philanthropy, and look forward to continuing ACGT's mission.
Stamford, CT (PRWEB) May 01, 2015
Barbara Netter — the President and Co-Founder of Alliance for Cancer Gene Therapy (ACGT), a Stamford-based nonprofit devoted to advancing cancer research and treatment — has been awarded the John H. Filer Award by the Connecticut Council of Philanthropy. Ms. Netter, who co-founded ACGT with her late husband Edward Netter in 2001, received the honor at the council's annual meeting on April 30th.
The John H. Filer Award recognizes outstanding individuals who have spurred philanthropy and bettered the public good across Connecticut. Ms. Netter, a longtime Greenwich resident, was chosen after a rigorous selection process carried out by the council's award committee.
"It is an honor to have received the John H. Filer Award, and a privilege to lead an organization like ACGT," Ms. Netter said. "I truly appreciate this distinction from the Connecticut Council of Philanthropy, and look forward to continuing ACGT's mission. Connecticut has a rich and generous philanthropic landscape capable of making a tremendous impact."
Ms. Netter and ACGT have played a critical role in uncovering new and innovative ways to treat cancer. For nearly a decade-and-a-half, she has been motivated by an ambitious vision: transforming cancer into a manageable disease, and developing treatments that supplant more harrowing methods like chemotherapy, radiation, and surgery. Under Ms. Netter's leadership, ACGT has granted over $25 million in funding for top scientists across North America — and, as a result, contributed to scientific and medical breakthroughs. ACGT grants have supported revolutionary oncologists like Dr. Carl June at University of Pennsylvania and Dr. Michel Sadelain at Memorial Sloan-Kettering. Doctors June and Sadelain — along with dozens of other ACGT-grantees — have saved lives and sowed hope for many.
"Barbara Netter has devoted her financial, intellectual, social and moral resources to a cause in service to all of us," said Maggie Osborn, president of the Connecticut Council for Philanthropy. "She deeply deserves this recognition as she embodies everything that is the spirit of philanthropy and we are honored to present her with the John H. Filer Award which recognizes individuals who have demonstrated leadership in encouraging private action for the public good in Connecticut."
Ms. Netter has a long history of philanthropy in Connecticut. In addition to galvanizing donors across the state and partnering with other impactful nonprofits like Swim Across America, she serves on the Advisory Board of the Women's Health Initiative at Greenwich Hospital. She has received past honors from Quinnipiac University, the American Society of Gene and Cell Therapies, the Center for HOPE, the Greenwich YMCA and other organizations. Ms. Netter previously served as a staff psychotherapist at Pelham Family Services in Pelham, NY, for 20 years. She was also a facilitator at the Den for Grieving Kids of Family Centers in Greenwich for 12 years.
About Alliance for Cancer Gene Therapy (ACGT):
Established in 2001, ACGT (http://www.acgtfoundation.org) is the nation's only not-for-profit dedicated exclusively to cell and gene therapy treatments for all types of cancer. One hundred percent of contributions go directly to research. ACGT has funded 46 grants in the U.S. and Canada since its founding in 2001 by Barbara Netter, President, and her late husband, Edward, to conduct and accelerate critically needed innovative research. Since its inception, ACGT has awarded 31 grants to Young Investigators and 15 grants to Clinical Investigators, totaling more than $25 million in funding. ACGT is located at 96 Cummings Point Road, Stamford, CT 06902.
ACGT on Facebook: http://www.facebook.com/ACGTfoundation
ACGT on Twitter: http://www.twitter.com/ACGTfoundation
ACGT on YouTube: http://www.youtube.com/user/ACGTfoundation