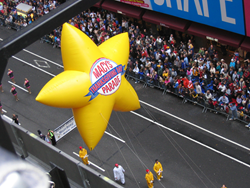 New York, NY (PRWEB) May 05, 2015
One thing is certain: Holiday time in New York City is busy. With all the crowds and chaos in mind, New York City Vacation Packages (NYCVP) is introducing their brand new Hosted and Escorted Thanksgiving vacation from November 24th to the 28th, 2015.
What's included?

Roundtrip private transfers for guests flying into New York City airports
4-night accommodations at the Sheraton New York Times Square
Sightseeing and tours
1 breakfast, 1 lunch, 3 dinners
A Broadway show and the Radio City Christmas Spectacular
Services of a Tour Host from Wednesday morning through Friday evening
The itinerary is set. Guests arrive in New York City on Tuesday, November 24th, where a private vehicle will be waiting to take them to the Sheraton New York Times Square. The holiday activities begin on Wednesday, November 25th, when the tour host will meet all guests and escort them on a walking tour of Rockefeller Center, Fifth Avenue, and St. Patrick's Cathedral. After lunch, a chartered motorcoach tour will take everyone to the Macy's balloon inflation area—where the world-famous parade begins to take shape. Guests will have the opportunity to take photos and watch some of their favorite balloons being inflated before continuing on the motorcoach tour to St. John the Divine, the largest Gothic cathedral in the world, for an organ recital. That night, the schedule includes dinner at a nearby restaurant and seats to a Broadway show.
Thanksgiving falls on Thursday, November 26th, and guests will start their day escorted to the Macy's Thanksgiving Day Parade and NYCVP's exclusive Stay Warm Thanksgiving Breakfast at the Heartland Brewery. Guests are welcome to come and go as they please, grab a bite to eat, use the restroom and then go back out to view the parade. An upgrade option is available to attend an indoor Parade Viewing Party.
After Santa crosses in front of Macy's Herald Square at the end of the parade, guests will have some time to themselves to explore the city before the tour host escorts them to a traditional Thanksgiving turkey dinner with all the trimmings. After dinner, a motorcoach tour will take guests to view the holiday displays and decorated department store windows like Macy's, Bloomingdale's, Barney's, Lord & Taylor, and more.
Friday, November 27th, includes an escorted tour of the Statue of Liberty and Lower Manhattan—including Wall Street and the 9/11 Memorial & Museum. Guests will also have tickets to see the Radio City Christmas Spectacular and dine at a special farewell dinner.
Saturday, November 28th, guests will be transported by private vehicles back to the airport for their return home.
All admission fees, taxes on included items, and gratuities for all meals are already included in the price. Additional nights and upgrades are also available upon request. For more information and full details for the hosted and escorted Thanksgiving parade packages, visit http://www.nyctrip.com or call 877-NYC-Trip to speak to a personal vacation planner.
About NYCVP
New York City Vacation Packages has been a trusted NYC travel information authority since 1983 and is the only major independent tour company in the United States devoted exclusively to NYC travel. NYCVP offers services to make sure your custom New York City vacation is safe and secure, and is a member in good standing of NYC & Company (New York City's marketing and tourism organization), the National Tour Association, and the American Society of Travel Agents Tour Operator Program.