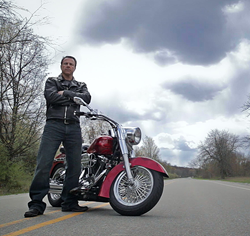 May is Motorcycle Awareness Month. Let's get #MotorcycleAware trending and call attention to the need to help keep motorcyclists safe on our roads.
Lansing, MI (PRWEB) May 01, 2015
May is Motorcycle Awareness Month, and Motorcycle Accident Injury attorney Jason Waechter (The Motorcycle Lawyer) is celebrating the riding season with fellow bikers. "Obviously, motorcyclists are a pretty passionate bunch," says Waechter. "Motorcycle Awareness Month is special because it provides bikers with even more opportunities to get the word out and help promote motorcycle awareness and safety among vehicle drivers."
Every year, Waechter and his team reach out to vehicle drivers across the United States to try to encourage motorcycle-aware driving practices and potentially save the lives of motorcyclists. "Motorcycle Awareness month is an opportunity for vehicle drivers to get into better habits, become more aware of motorcyclists, and learn how to better protect the safety of those bikers they encounter out on the roads," he says.
This year, Waechter is encouraging motorcyclists and vehicle drivers to share his list of ten motorcycle-aware driving tips. "Whether they share this article via social media, or print it out and post it at their workplace, or even pass it out to family and friends, we want to encourage everyone to get these tips circulating and try to get #MotorcycleAware trending worldwide."
Motorcycle Accident Injury Attorney Jason Waechter's tips for drivers are:
#1: See the biker. See the human being riding the motorcycle, who has a family and friends who care about them. See the person, and do whatever you can to help keep them safe.
#2: Put down the phone. Stop texting. Stop looking at your map. Stop doing anything that distracts your mind, eyes, and hands for controlling your vehicle. Put it away or pull over.
#3: Watch for Motorcycles. Whether you see bikers year-round or not, there are more riders out across the country during the summer months. Actively look for motorcycles when you're out for a drive, or play the Count the Motorcycles game with your kids on your summer road trip.
#3: Check your mirrors and your blind spots. Look twice. Do this before you move the steering wheel.
#4: Use your ears to listen; you might hear a bike before you see it. Turn down the radio and focus on the road.
#5: Look before your turn, and check carefully for oncoming motorcycles. Vehicle drivers have a difficult time judging the speed of a motorcycle, and the highest number of motorcycle-vehicle accidents happen at intersections, particularly when a vehicle turns in front of a motorcycle.
#6: Signal before you make a move. Using your turn indicators is a simple and effective way to potentially prevent crashes with motorcycles and other vehicles. Get into the habit of signaling even if there's nobody else around.
#7: Leave time to stop. Just like your vehicle, a motorcycle can't "stop on a dime", so leave enough time and space to make sure stopping isn't a problem.
#8: Don't tailgate. Vehicle drivers shouldn't tailgate other vehicles, but it's especially important to stay well back from a motorcyclist. Remember, there are no "fender benders" when a motorcycle is involved; even slight contact with the bike could be deadly for the rider. Stay back.
#9: Share the road. The motorcyclist can use the entire lane just like a vehicle driver. Sometimes, the biker will need to move laterally within a lane to avoid debris or obstacles that wouldn't affect a vehicle. Give them plenty of room to maneuver.
#10. Don't let your guard down. Being motorcycle-aware takes a conscious effort, but the reward could be saving the life of a motorcyclist. Be predictable and avoid taking risks on the road.
"There are many other ways that vehicle drivers can practice being motorcycle-aware," says Waechter. "This year, we want to reach as many people as possible, which is why we are asking anyone who has a motorcycle awareness tip to share it via Twitter or Facebook, and tagging it with #MotorcycleAware. We will be watching for your #MotorcycleAware tips throughout the month of May, and sharing them with our followers."
Waechter adds, "On behalf of myself and my team, I want to invite everyone to participate in Motorcycle Awareness Month this year. Get involved and spread the word: you could potentially save a motorcyclist's life."
####
Jason Waechter has spent two decades cementing his reputation for results. Over the years, he has won millions for auto accident victims and contributed significantly to safety education and accident prevention. He has entrenched himself as one of the nation's premier lawyers. Injured bikers know: The number to CALL if you FALL is 1-877-BIKER-LAW, or visit our website at http://www.themotorcyclelawyer.com