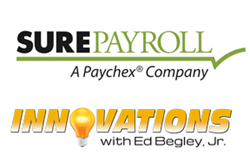 Glenview, IL (PRWEB) May 04, 2015
SurePayroll, Inc., announced today that they will be featured in an upcoming episode of Innovations with Ed Begley Jr, airing 3rd QTR 2015, via Discovery Channel. Dates and show times TBA.
In this episode, Innovations will explore SurePayroll, an easy online payroll company that combines industry-leading technology with award-winning customer service. Viewers will learn about the technology behind SurePayroll, and how the service calculates wages, pays employees and automatically pays and files federal, state, and local payroll taxes automatically.
"We're excited to share with viewers how Cloud-based, online payroll has made life easier for small business owners," said SurePayroll General Manager Andy Roe. "Payroll is certainly part of the huge shift we're seeing in many industries to online, mobile applications."
"SurePayroll allows for easy payroll processing," said Chris Brink, Producer for the series. "People will be amazed by the service's ability to automatically pay and file payroll taxes within only a couple of minutes."
About SurePayroll Inc:
SurePayroll is the trusted provider of easy online payroll services to small businesses nationwide. Whether a business has 1, 10, or 100 employees, SurePayroll delivers peace of mind by combining innovative, industry-leading technology and personalized support from an award-winning, U.S.-based customer care team. SurePayroll also provides private-label and co-branded services for accountants and banking partners as well as offering efficient online solutions for managing 401(k) plans, health insurance, workers' compensation, employee screening and more. SurePayroll is a wholly owned subsidiary of Paychex. For more information, please visit http://www.SurePayroll.com.
About Innovations and DMG Productions:
Innovations, hosted by award winning actor Ed Begley, Jr., is an information-based series geared toward educating the public on the latest breakthroughs in all areas of society. Featuring practical solutions and important issues facing consumers and professionals alike, Innovations focuses on cutting-edge advancements in everything from health and wellness to global business, renewable energy, and more.
DMG Productions (responsible for creating the Innovations show) includes personnel specialized in various fields from agriculture to medicine, independent films to regional news and more. Field producers work closely with experts in the field to develop stories. This powerful force enables DMG to consistently produce commercial-free, educational programming that both viewers and networks depend on.
For more information visit: http://www.InnovationsTelevision.com or contact Chris Brink at: (866) 496-4065 x 813 or via email at: Chris(at)InnovationsTelevision(dot)com.