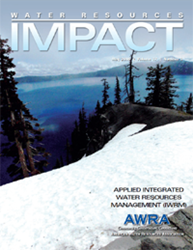 Middleburg, VA (PRWEB) May 06, 2015
The American Water Resources Association (AWRA) announces the opening of the nomination period for its prestigious Integrated Water Resources Management (IWRM) award, recognizing excellence in the use of an IWRM approach to water resources projects.
An IWRM approach to water resources has been a hallmark of AWRA since our establishment in 1964. In 2014, 12 projects were nominated for the award. The May issue of our Water Resources IMPACT magazine features not only the 2014 AWRA IWRM Award winner - One Water, One Watershed Program from the Santa Ana Watershed Project Authority - but also highlights eight of the other projects nominated for the award "in a contest that was almost too close to call," according to selection committee members. The issue is has been opened for public download for a limited time and may be found by clicking here.
AWRA and our selection committee encourage all qualified projects and organizations to apply. Nomination applications are due June 15, 2015.
Criteria for Award: This award recognizes outstanding IWRM teamwork on a water resources project. IWRM teams are widely recognized as essential to complex water management efforts. The project chosen for this award will be conducted by a team representing multiple disciplines such as engineering, biophysical science, economics, social science, law, and political science. The group will have developed a common project mission with defined responsibilities, and collaborated to achieve a water resources management objective. The project will encompass coordinated planning, development, protection, and management of water, land and related resources in a manner that fosters sustainable economic activity, improves or sustains environmental quality, ensures public health and safety, and provides for the sustainability of communities and ecosystems.
Procedure for Nominations: Credentials of projects for consideration for the award should be submitted to info(at)awra.org. Applications must be submitted electronically as one document and limited to 5mb in size to ensure delivery. Applications are due June 15, 2015. Please call 540-687-8390 or email info(at)awra.org with any questions concerning the submission process.
About AWRA
Since 1964, American Water Resources Association has been dedicated to the advancement of water resources management, research and education, as well as a balanced approach toward solving water resources challenges. AWRA's membership is comprised of professionals who share a common interest in working and learning across a wide range of disciplines focused on water resources policy, practice and education. Visit AWRA.